College of Education Professor Earns UH Teaching Excellence Award Mikel Cole Challenges Students to Self-Reflect and Notice Educational Inequities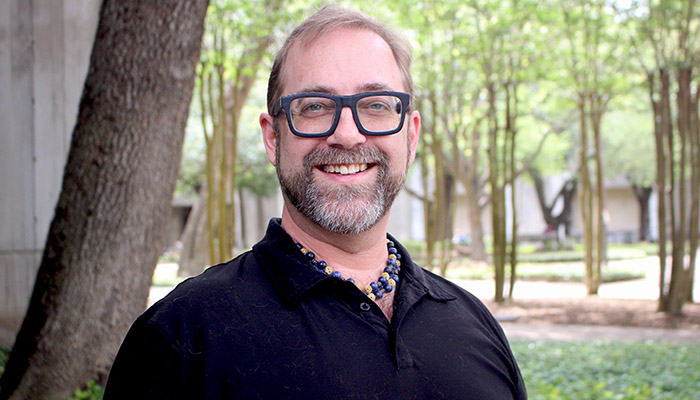 Posted May 5, 2023 — Mikel Cole's interest in teaching began when he tutored fellow students at his Arkansas elementary school, and he picked up tutoring again after college, uncertain of his career path. A philosophy graduate, he recalls the progress his second grade student made in one semester.
"She went from reading at a kindergarten level to being on grade level," he said. "I was kind of certain it was the right direction for me."
Cole went on to work as a K-12 teacher for a decade and taught English as a second language in Taiwan before becoming a professor. He joined the faculty of the University of Houston College of Education in 2020 and specializes in bilingual/ESL education.
Cole's dedication to the growth of student teachers and graduate students helped him earn him a UH Teaching Excellence Award for 2022-23.
Grace Lee, a doctoral student in the College's Department of Curriculum & Instruction, said Cole's class on language education policy was "one of the most formative, impactful courses I have taken at UH, not only because the content was phenomenal and highly relevant, but also because Dr. Cole's instructional approach of the topic was effective and his care for his students was evident."
"I am confident many students have benefitted from Dr. Cole's expertise and instruction, his mentorship, dedication to the profession and advocacy work in bilingual education," Lee wrote in an award recommendation letter.
Cole received his award from Senior Vice President for Academic Affairs and Provost Diane Z. Chase during a ceremony May 3, adding to a strong tradition of College of Education teaching excellence honorees.
Learn more about Cole and his teaching philosophy in the following Q&A.
What do you enjoy most about being a professor?
I love so many things about being a professor. I enjoy the research and having an opportunity to effect change at scale, but I also love working with in-service and preservice teachers who keep me connected to the more than a decade I spent in K-12 classrooms. Increasingly, I've really grown to treasure the lifelong relationships I build with doctoral students as they grow from students into colleagues. And of course, I have the pleasure to work with bright, engaged colleagues working to improve schooling at all levels.
How would you describe your teaching philosophy? What do you consider teaching excellence?
I believe that learning is an active, constructed process, and I also believe that we learn best by engaging actively in social learning. My early teaching was in Montessori classrooms, and I've also brought that orientation to meaningful, hands-on learning into my classes at UH. I think that teaching excellence rests not in providing information to students, but instead, excellent teaching involves challenging students to be self-reflective and conscious of inequities in schooling and then facilitating their growth as they navigate their own teaching practice and development.
What was your reaction to winning a UH Teaching Excellence Award?
I am grateful to current and former students who cared enough to nominate me and to write letters of support. Similarly, I'm humbled by colleagues and administrators who took time to write letters of support. And I am humbled by the University's recognition of my commitment to teaching. It feels like a promise to continue my own process of self-reflection and growth as a teacher.
How do you view the intersection of teaching and research as a professor?
As a professor in the College of Education, I think that scholarship and teaching are inherently interwoven. For example, I am working with scholars who have been examining the impact of our teacher preparation program on the language ideologies and culturally sustaining teaching practices of pre-services teachers, and that in turn drives revisions to my course syllabi and the content and methods of my own courses. Similarly, my primary line of research is in the development of translanguaging and culturally sustaining pedagogies, which help teachers transform typical instruction by leveraging students' linguistic and cultural practices in the classroom. So, my scholarship keeps me in classrooms working with teachers to improve instruction across local school districts.
—By Kathy Patnaude