UH Health Graduate Empowering Underserved Youth Wins Rising Star Award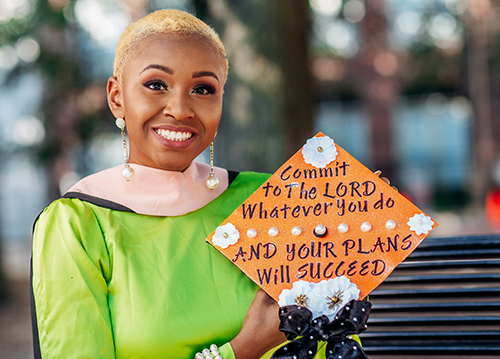 Posted March 4, 2021 — Lauren Harris switched majors twice at the University of Houston before she found her calling in public health. After discovering her niche, she landed on the dean's list several times and graduated cum laude with a bachelor's in health from the College of Education in 2017.
She understood she made the right decision when she shadowed a health educator at a local elementary school. During a life skills lesson, Harris asked the students to write down if anything was impacting their school performance. Some wrote nothing or drew smiley faces. However, one boy falling behind in reading shared how his mom had to work late to support the family, which meant he had to take the city bus home to care for his younger sister and couldn't attend after-school tutorials.
"This moment gave me the reality check I needed, why I was at UH learning about health disparities and social determinants of health," Harris said. "I don't just want to do intervention. I want to create lasting and sustainable change, a legacy of impact and enhanced health in the lives of these students."
For her commitment to health promotion and community service, Harris earned the College of Education's 2020 Rising Star Award. A young alumna, Harris embodies the College's dedication to improving lives through collective action, said Laura Lee, a student success coach/advisor in the Office of Undergraduate Studies.
"Lauren is the epitome of what we wish for all of our graduates," said Lee, who nominated Harris for the award.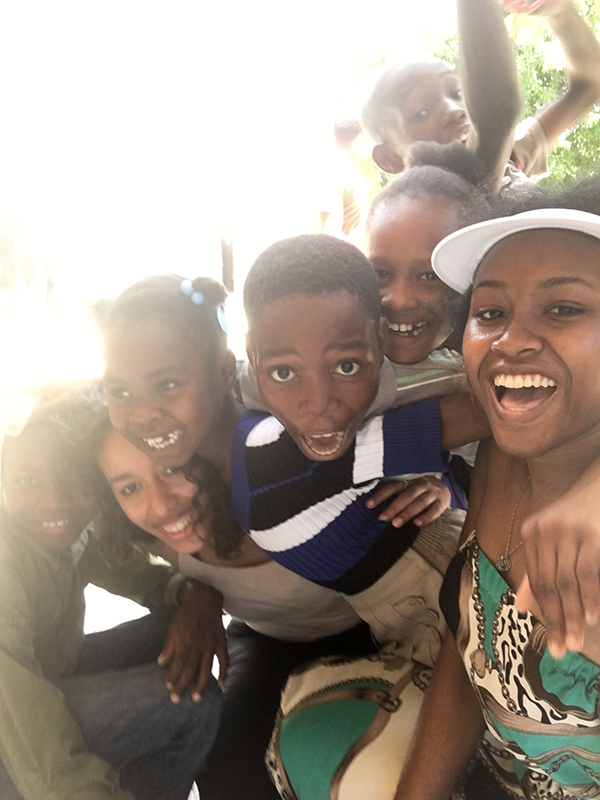 Harris works as a program coordinator at Change Happens!, a nonprofit in Third Ward that offers services to help children and families in high-risk communities. She oversees the day-to-day operations of HYPE 3.0, a program designed to empower African American and Hispanic/Latinx youth, ages 14-19, in Houston to make healthy choices through an evidence-based curriculum.
In partnership with YES Prep and the Houston Independent School District, HYPE 3.0 teaches students about healthy communication skills, red flags in relationships, and conflict resolution as well as covers the effectiveness of condoms, birth control and more. The program also provides schools, parents and students with resources to ensure long-lasting change.
"I feel so fulfilled, so much love, with the work I do," Harris said. "My goal is to just see what I can do to give more of myself to the community and address racial disparities."
Harris supervises a team of four and last year led the transition to virtual programming in the wake of COVID-19. The daughter of two UH graduates, Harris she said her time in the College of Education prepared her for the challenges she has faced as a program coordinator.
As part of her practicum through the College, she gained real world experience designing an overnight program at The Health Museum for Girl Scouts to learn new skills and earn their first aid badge. Harris trained staff and volunteers, taught classes, engaged with parents and even slept overnight at the museum to help prepare breakfast for the girls in the morning.
"I really did learn the fundamental skills at UH that I needed to excel in a career in public health," she said.
Harris went on to earn a Master of Public Health from The University of Texas Health Science Center at Houston in 2020, by conducting original research in her thesis, "How to Reduce Preventable Maternal Mortality in Black women by Enhanced Social Support Through Doula Services." 
She said she wants to do more to empower pregnant, low-income women from underserved, overlooked communities.
"I am so thankful and blessed to be living in my purpose now," she said. "I want to help other people to live and find their purposes as well."
— By Lillian Hoang
— Photos courtesy of Lauren Harris