UH Mentor Program Supports Latina First-Generation College Students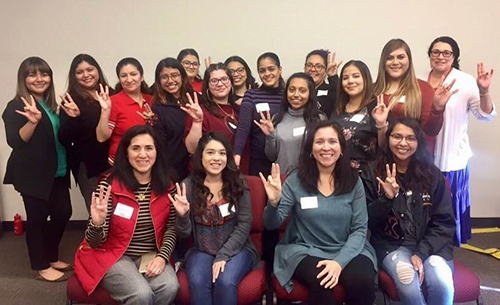 The Las Comadres program includes one-on-one mentoring and group gatherings. "Many of the young women have commented that this is a community of supportive women for them, and it is for me too," said mentor and College of Education Assistant Professor Ruth López (front, third from left).
Posted June 6, 2018 – Cecilia Gutierrez graduated as salutatorian of her high school class, but she still felt nervous starting as a freshman at the University of Houston.
She was the first in her family to attend college. Her father dropped out of school in sixth grade to help support his family, and her mother did the same in ninth grade, she said. While they encouraged her to go to college, they couldn't offer specific advice about managing her classes, the social scene – the newness of it all.
So, Gutierrez said, she was thrilled to join Las Comadres, a special UH mentoring program for Latina first-generation college students.
"I was really excited because I remember thinking I didn't know how I would be able to meet people or have a connection," said Gutierrez, a teaching major.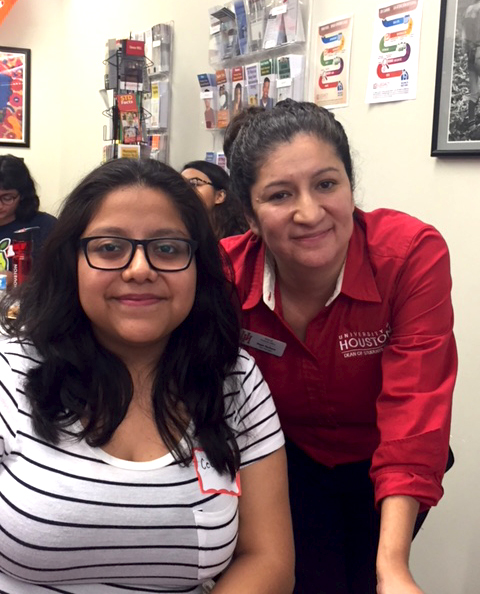 Teaching major Cecilia Gutierrez (left) said she can talk to her mentor and Las Comadres founder, Hope Pacheco, about anything.
Early research findings suggest that the student mentees and the faculty and staff mentors, also Latinas, have seen positive outcomes from Las Comadres. The model has the potential to be replicated across the nation and is under consideration by the nonprofit Excelencia in Education to be featured as an exemplar program for improving Latino success in higher education.
 "I think about the mentoring program as a transition, as a way for students to build confidence and network," said Hope Pacheco, Gutierrez's mentor and a social worker in the UH Dean of Students office. "We want them to go out and join organizations and be student leaders."
Pacheco founded Las Comadres in fall 2016 with Raven Jones, director of the UH Urban Experience Program, which provides support and resources to traditionally underserved students. Las Comadres is now included as a program within UEP.
Ruth López, an assistant professor in the College of Education, serves as the lead researcher for Las Comadres and volunteers as a mentor.
Lost Without It
Las Comadres – a Spanish term that represents a strong female bond – began as a group mentoring program, with monthly themed lunches and a Facebook group. After receiving feedback from the students and mentors, the founders revised the program for 2017-18 to focus on one-to-one mentoring. The revamped effort also includes participation in a summer bridge program, a fall retreat and two group gatherings a semester.
Gutierrez said she likes the new mix of individual mentoring and group meetings. As a freshman, she said, the other mentees helped her survive a tough history class, sharing study tips and building her confidence.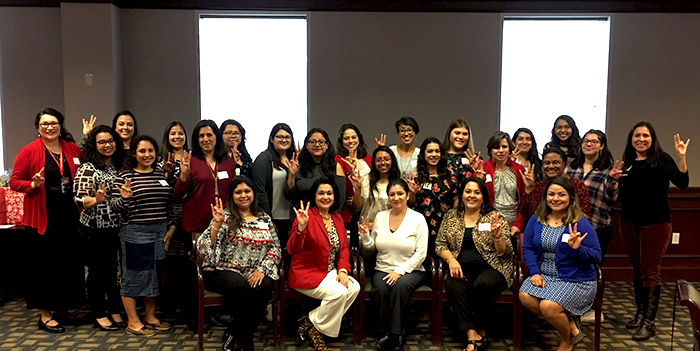 UH Regent Paula Mendoza (front row, second from left) was the keynote speaker at a Las Comadres event in December 2017.
"I'm a first-generation student, so without having the group, I think I would be a lot more lost," she said. "Those were the first people I met when I got to campus."
She and Pacheco meet monthly, usually over lunch.
"Anytime I need anything, I feel like I can talk to her," Gutierrez said. "It's a lot easier to talk with her rather than speaking to an entire group."
Pacheco, also the first in her family to attend college, can relate. She recalls how her mother, who didn't graduate high school, felt so uncomfortable at the idea of being on a college campus that she couldn't help her move into the dorm.
Jones, who works regularly with first-generation college students, said the mentoring provided by Las Comadres is a valuable addition to the educational, cultural and social programming offered through UEP.
"With Las Comadres we are able to support Latinas holistically by offering that extra support that helps students to persist and really reach their goals," said Jones, who has a Ph.D. in higher education from the College of Education.
Community of Support
In the 2017-18 academic year, two dozen students and 26 mentors from colleges and departments across UH participated in Las Comadres. In addition to López, the other mentors from the College of Education were professors Virmarie Correa-Fernández, Elsa Gonzalez and Rosenda Murillo.
López said the Las Comadres leadership team purposefully chose a participatory action research model, which involves Pacheco and Jones in the process and allows them to make adjustments to the program in real time.
Research interviews conducted so far show that the mentees were seeking a sense of belonging from the group as they struggled to transition from high school and maintain relationships with their families.
"Sometimes I have to go study but (I can't)," one student said. "I have to help my mom work in the afternoon to clean."
"My parents don't understand sometimes that I have to do schoolwork and they ask me, 'Why are you coming home so late?'" said another.
The students also pointed out that their parents are their biggest supporters.
"Many of the young women have commented that this is a community of supportive women for them, and it is for me too," said López, who relates as the daughter of immigrants and a first-generation college student.
The research group meets weekly, reviewing literature, transcribing interviews, coding data and more. They presented in March at the Texas Association of Chicanos in Higher Education conference in Dallas and will present in August at the Texas Higher Education Symposium hosted at UH.
Their longitudinal study will address the short- and long-term impact of Las Comadres. Did the students' sense of belonging and attitudes about school change? How do the retention and graduation rates compare to other students? For the mentors, do their career goals change, and what about their sense of belonging?
López said she already is encouraged hearing some of the sophomore mentees say they, too, want a Ph.D. Of all the U.S. women who earned doctorates in 2014-15, only 7.3 percent were Latinas, according to the latest federal data.
Paying It Forward
The Las Comadres research team also includes Justin Bryant, a former high school teacher who's pursuing a Ph.D. in higher education in the College of Education; Esmeralda Valdez, a Ph.D. student in the same program who works as executive director of UH University Services; and Maria Honey, a UH assistant director of marketing and communications and a 2017 M.Ed. graduate.
As a first-generation college student, Honey said she struggled as a UH undergraduate in the mid-1990s until she found a connection with a Catholic student group. Now, she said, she understands from research that a sense of belonging is an important factor in a student's success in college. That's why she also serves as a mentor in Las Comadres.
"It feels like I'm paying it forward in a very direct and personal manner," she said.
Valdez, also a mentor, shared a similar perspective. "As a first-generation college graduate, being part of Las Comadres is very personal and rewarding," she said.
Bryant, who attended a diverse high school and a historically black college, said he's seen the value of having mentors with shared backgrounds.
"I recognize, and it's part of my research in higher education, the significance once you have individuals who look like you, who can identify with your experiences," he said.
Gutierrez, the mentee and aspiring teacher, makes clear the potential ripple effect of Las Comadres, as she plans to mentor countless young students in the classroom.
"I remember the first time I explained something to a young girl and she understood it," Gutierrez said. "She just had this look in her eyes. She stopped acting out and did what she was supposed to and started getting all the problems right. I hope I can do that for all of my students."
–By Ericka Mellon
–Photos courtesy of Las Comadres