Grad School Amid COVID: How Grit and Faculty Support Helped UH Student Succeed
Posted Oct. 4, 2022 — Completing a graduate degree can be difficult for anyone, but the pandemic has posed additional obstacles.
Jorge Mendoza, who caught COVID-19 in late July 2021 as he was working on his master's degree at the University of Houston College of Education, knows the struggle.
"It's a blessing that I'm here, because it was bad," he said. "If I took three or four steps, I would be hyperventilating,"
Mendoza persevered with the support of his professors, ultimately earning his M.Ed. in curriculum and instruction in May 2022 and recently starting his dream job as an instructional designer at San Jacinto College.
None of that seemed possible during the weeks he battled COVID. 
At the time, Mendoza taught a second-grade bilingual class at Patterson Elementary in the Conroe Independent School District. Worried about missing the chance to connect with his students at the start of the semester and too ill to complete his capstone project, he considered dropping out of the master's program. But faculty exercised flexibility amid the pandemic, and Mendoza received extensions to finish his assignments.
"In spite of hardships, Jorge remained resilient," Clinical Assistant Professor Bulent Dogan said. "It was a time when he was in need of extra help from us as faculty members. I am delighted to have been able to provide him with both academic and mentoring support."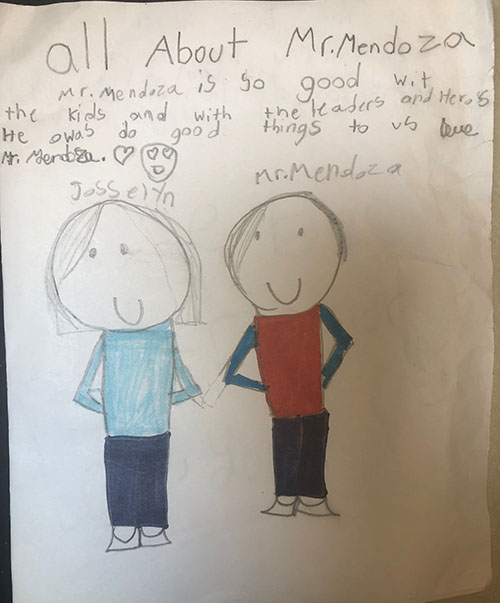 Mendoza earned his master's degree more than a decade after graduating from UH with a bachelor's degree in interdisciplinary studies in 2011. His undergraduate years were affected by illness, too, when his mother died from stomach cancer. "Seeing your mom in pain? It's no good," he said.
Unable to cover tuition, Mendoza had to drop out of college. Homeless until relatives assisted, Mendoza worked in retail before returning to UH and getting certified as a bilingual teacher.
"I never thought I was going to be a teacher," he said. Growing up, he was most passionate about technology, but his mother, a lifelong educator, encouraged him after he graduated high school to consider teaching.
He came to realize the joys of watching students learn and grow.
"Teaching is a blessing," said Mendoza, remembering a student who struggled with addition early in the year but learned multiplication and division by the end. "It's just the greatest reward you can get."
For graduate school, he was able to focus on his interest in technology through the College of Education's learning, design and technology specialization. Now he's on to the next phase of his career, using his master's degree to provide instructional support to departments and faculty at San Jacinto College.
Mendoza said he drew upon his capstone project during the job interview process. He showed off the website he developed with personalized instructional videos to help teachers engage students beyond worksheets and premade programs. "I don't have the words to express my full gratitude," he said of UH, "but please know that the LDT program helped change my life."
That, Dogan said, is the goal. "We expose our graduates to a wide variety of tools and skills in the field of e-learning technologies, and they become fully prepared to handle the needs of corporations and educational organizations."
— By Lillian Hoang
— Photos courtesy of Jorge Mendoza