'You've Gotta Dream It' UH and "The Voice" Alum Stephanie Rice Delivered a Lesson in Persistence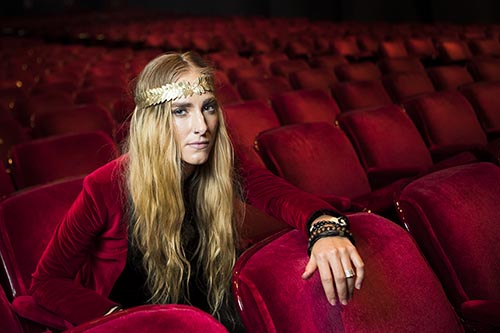 Stephanie Rice shared her story and performed at First Lecture 2018 at UH's Cullen Performance Hall. See more photos from the event at the bottom of this page.
Posted Aug. 23, 2018 – Stephanie Rice didn't think she'd go to college. Not because she wasn't smart enough – she made straight A's in high school – but because of her secrets.
Her dad, a Baptist pastor in a small Texas town, had taught her that women should be subordinate to men, that evolution wasn't real and that being gay was bad, she said.
Rice, on the other hand, believed in gender equality, wanted to major in biology and knew she was gay.
"You can imagine the fear I felt at the thought of those secrets getting out, especially that last one," Rice told a crowd of more than 670 at the University of Houston College of Education's First Lecture on Friday.
The annual event, established by Dean Bob McPherson, is designed to give students, faculty, staff and community members a memorable and motivational start to the academic year.
McPherson, who heard Rice speak at a UH LGBTQ dinner in May, said he knew he wanted her to share her story with the College's students – aspiring teachers, school leaders, health advocates, counselors, psychologists and researchers.
"All of us, at some point in time, have had our moments of desperation and disappointment, but what matters is, you get back up and get back in the game," McPherson said. "And that's exactly what Stephanie did."
Despite her secrets, Rice said she was determined to get a basketball scholarship so she could afford college. She woke up at 5 a.m., joined the cross country team to improve her stamina and stayed after basketball practice until she made 100 free throws. College scouts came calling.
"I could almost taste my dreams," Rice said.
But a month before graduation, Rice said, her dad came to school after learning she was gay. He raged. A school counselor hid Rice in her office and said something Rice had never heard – that being gay wasn't wrong.
Rice tried to blame rumors. But her dad was holding love letters she had written to a girl, she said. "In his hand, I saw my world come tumbling down."
She sank into a deep depression and considered suicide. She said her dad kept her from giving a speech at graduation although she was salutatorian of her high school class.
"I was told I'm not worthy of recognition or fit to be an example," she said, tearing up as she delivered remarks a decade later at UH's Cullen Performance Hall.
Unwilling to go to Christian counseling, Rice said, her parents renounced her. They dropped her off in the parking lot of a community college, her bank account emptied, her health insurance gone.
"But I was free," Rice said. "And because I was free, I decided I would apply to the University of Houston and choose biology as my major."
She was accepted and appealed to be able to get financial aid.
Her hope returned.
"Education was all that I had to hang onto, and I clung to it," she said. "Here, at the University of Houston, I found acceptance, different walks of life, encouraging, supportive professors, and a home."
Biology professor Tony Frankino gave her a job in his lab, and another professor, Thomas Vida, nurtured her passion for asking questions.
Rice, who had been writing songs and playing the piano since she was a kid, began performing at open-mic nights around Houston. She released her pain through music and embraced the city that had embraced her.
"It was here that the broken pieces of my life began to end," she said.
In 2012, Rice graduated from UH with a biology major and a psychology minor. She went on to work as a researcher at Baylor College of Medicine and had an article published in the "Journal of AIDS."
A scientist and an artist, she released her first album, "Dear Misery," in 2016 and landed a spot on NBC's "The Voice" the next year. During her audition, she sang Kelly Clarkson's "Piece by Piece" as though it was her own.
Piece by piece, he restores my faith
that a man can be kind and a father could stay.
"I was really moved by you," judge and Grammy Award-winning artist Gwen Stefani told Rice after her soulful performance. "I could feel whatever pain is in there."
Rice, who performed around the country and Canada this summer and married her longtime girlfriend in July, reminded attendees at First Lecture the importance of being compassionate.
"To the professors that are here today, thank you for doing the work that may be more meaningful than you realize," Rice said. "To the LGBTQ students experiencing adversity, know that you are not alone. To the non-LGBTQ students, please be an ally, a friend.
"And to the College of Education, your work is so vital and important to the future. Thank you for the doing the work you do. I know it's not always an easy path, but I am proof that it could lead to saving a life."
After a standing ovation, Rice took to center stage to sing, her keyboard surrounded with red and white roses.
What do you want to be?
When you grow up, you can be anything.
You've gotta dream it.
Oh, I've been dreaming.
–By Ericka Mellon
Watch a video of Rice performing and speaking at First Lecture on the College's Facebook page.
After First Lecture, students waiting to meet and take photos with Rice shared how the event inspired them:
"I'm in education because I want to help kids who have been rejected. So seeing someone who went to UH, was in that situation and succeeded was awesome."
–Alexandria Brewer, student teacher
"Putting herself through college, that's amazing. There should be more people who come out with stories like that because it really motivates us."
–Crystal Reyes, education minor
"I thought it was so cool how behind her story she showed how teachers impacted her. It was perfect for us studying education."
–Jannet Garnica, student teacher
Compiled by Claire Andersen
Attendees – and Rice – also took to social media to share their thoughts.
It's amazing how one person can impact your life! I'm so grateful that I got the opportunity to hear from @stephricemusic and got to meet her as well! #FirstLecture2018 @UHCOE pic.twitter.com/fYSktugR3R

— Regina Martinez (@reginamtz8) August 17, 2018
Appreciated the personal truth, grit, and determination that @UHouston #ForeverCoog @stephricemusic brought to this morning's @UHCOE #FirstLecture2018 pic.twitter.com/6V1fGCyNGA

— Susie Gronseth (@susiegronseth) August 17, 2018
Thank you @UHCOE for the invite to hear @stephricemusic tell her inspiring story. I along with #teachforwardhouston students were inspired. #educatorschangelives pic.twitter.com/Ka2bsHlx1z

— Diana Lum (@DianaGarciaLum) August 17, 2018
So proud to work in the @UHCOE and at this university. #FirstLecture2018 was beyond amazing and so inspiring. https://t.co/lIs9s6Tfoc

— Leslie Frankel (@FrankelHDFS) August 17, 2018
Amazing Voice and amazing story from #Powerhouse #Coog Stephanie Rice at #FirstLecture2018. THANK YOU!

— UHMarisa (@UHMarisa) August 17, 2018
Super grateful for the empowering words that @stephricemusic gave at First Lecture. Thank you for sharing your story with us and encouraging us as educators and humans beings. Words cannot express the impact it had on me. And don't get me started on the music, loved it all!🏽💕 pic.twitter.com/EN0vrw0xGd

— Courtney Little (@courtneyyy1112) August 18, 2018
Wow. Wow. Wow. Today I shared my story, and so many of you stayed to share yours with me. I feel like if I wrote 3 songs a day, everyday - there would still be so much of our story to tell. Thank you for being open with me. I'll remember this day forever. 💙

— Stephanie Rice (@stephricemusic) August 17, 2018