Museum Leader Wins UH College of Education Distinguished Alumni Award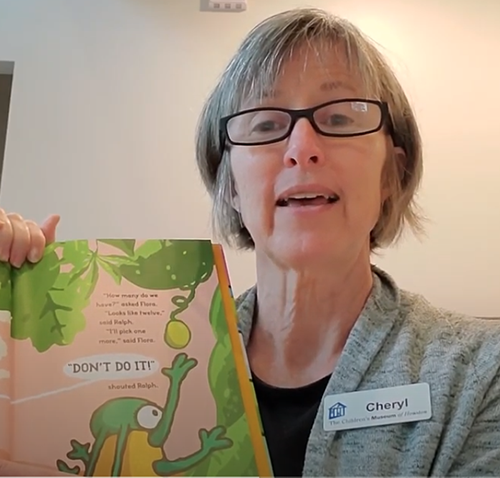 Posted March 4, 2021 — When COVID-19 forced Children's Museum Houston to close its doors, Director of Education Cheryl McCallum and her team turned on their cameras. They recorded themselves doing science experiments, making crafts, leading exercises and more. They've transformed balloons into rockets, pizza into math formulas and songs into language lessons. Since the start of the pandemic in March 2020, the team has produced over 1,400 videos, topping 7 million views.
"The best work isn't the easy work," McCallum said. "When you're really trying hard to do great work, it requires dedication and, in my opinion, a longitudinal perspective."
Even before the outbreak, McCallum, a graduate of the University of Houston College of Education, was positively impacting millions of children's lives in the greater Houston area. Her leadership and creativity have earned her a 2020 Distinguished Alumni Award from the College.
"She has been a champion for kids and has partnered strategically and successfully to combine strengths toward key outcomes," said UH Moores Professor and Department Chair Cathy Horn, who nominated McCallum and serves on the museum's board. "She is smart, humble and a tremendous force for good in Houston. Our College and our University should be proud to call her an alumna."
McCallum has worked at the museum for nearly 28 years, leading the educational efforts for the last 24. She oversees on-site activities and community partnerships that serve nearly 1.3 million individuals annually.
Her work is inspired by her childhood in Irving, catching crawdads and exploring her neighborhood with friends until the streetlights came on. The world was her "petri dish," she said, and she wants to provide all children similar experiences through the museum.
"I believe kids need opportunities to express their own ways of being curious and investigating things, and they need to be presented with a myriad of different things they can dig into and solve. That's what I try to practice at the museum," said McCallum, whose efforts were recognized by the White House in 2013 with the Champion of Change award. 
McCallum and her team have focused on increasing opportunities for low-income children and families. For example, they created Welcome Baby kits, which includes a book, wrist rattle and other resources to help families with 2- to 9-month-old babies stimulate their child's brain development.
McCallum said her time in the College of Education gave her the tools to create the Welcome Baby program. "I had many 'aha, I can use this information in so many ways in my work' moments while at UH," said McCallum, who earned an Ed.D. in curriculum and instruction in 2009.
The strong instructional technology program and research and evaluation courses taught her how to improve projects based on feedback, she said. For the Welcome Baby kits, the team used data from focus groups to enhance the program in its next iteration. Now, the museum provides 10,000 Welcome Baby kits a year.
Although the museum remains temporarily closed until June 2021, McCallum's team continues to produce four educational videos a day, five days a week through their new All-Time Access virtual learning platform.
"We want every child in greater Houston to be able to experience what we have to offer as much and often as they want to," she said. "We're striving daily toward that goal."
— By Lillian Hoang
— Photo courtesy of Cheryl McCallum