Fort Bend ISD Superintendent Honored as Distinguished UH College of Education Alum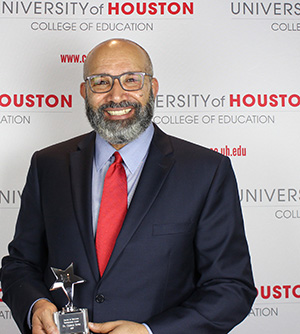 Posted May 29, 2019 – Charles Dupre's journey to become superintendent of the Fort Bend Independent School District began in Casablanca, Morocco, on Thanksgiving Day 1961. Dupre was adopted at birth by an American military couple.
At 3, he moved to the United States with the only people he had known as parents. But almost three years later, his mother died and his father gave up custody.
"I ended up an orphan a second time," Dupre said. "But thanks to a wonderful Christian children's home and many teachers who invested in me, they gave me a vision and they gave me a future. And so, I'm thankful for education."
Dupre shared his story – his "why," he explained – as he accepted a 2019 Distinguished Alumni Award from the University of Houston College of Education in late April. Dupre earned a master's degree in administration and supervision from the College in 2003.
April marked Dupre's sixth year leading the eighth-largest school district in the state and one of the most diverse in the nation. With Dupre at the helm, Fort Bend ISD was recognized as the best large school district in Texas at the 2018 H-E-B Excellence in Education Awards.
"We live what we believe in Fort Bend ISD," said Dupre, who also serves as an adjunct professor in the College's school leadership graduate degree programs. "We're truly dedicated to inspiring and equipping all students to pursue futures beyond what they can imagine. We want to make generational change as well."
'Reality set in'
As a teenager, Dupre gravitated toward teaching – working as a camp counselor, tutoring classmates and serving as president of the Future Teachers of America club at his all-white high school. However, he said, "Reality set in when I was in college."
He worried about living on a teacher's salary and ended up majoring in accounting at Harding University in Searcy, Arkansas, about four hours south of Springfield, Missouri, where he grew up.
With a bachelor's in business administration, Dupre worked in the accounting and energy sectors for 11 years before joining Fort Bend ISD as the internal auditor. He later was promoted to budget officer and associate superintendent for finance.
Betty Baitland, former superintendent of Fort Bend ISD, recalled Dupre expressing an interest in becoming a superintendent someday. However, as a CPA, he wanted to be sure he had the respect of teachers.
"He felt like he could not relate to the employees unless he had some educational background," said Baitland, who encouraged Dupre to pursue an M.Ed. in administration from the UH College of Education. Baitland has an Ed.D. from the College and was serving as an adjunct professor at the time.
'A great job'
After he graduated, Baitland said she was pleased to recommend Dupre to serve as deputy superintendent in Pflugerville ISD, north of Austin. When the superintendent resigned unexpectedly, the school board appointed Dupre to the post.
Under Dupre's leadership, Pflugerville voters approved a $125 million bond package for school construction, and academic achievement rose in all student groups. Dupre was named Region 13 Superintendent of the Year in 2012 and was one of five finalists for Texas Superintendent of the Year. The Greater Austin Chamber of Commerce also honored Dupre for his efforts to improve college and career readiness among students.
When Dupre was tapped to lead Fort Bend ISD in 2013, he drew praise from members of the Pflugerville school board.
"The district is in a great situation," then-board president Elva Gladney said, according to Community Impact Newspaper of Austin. "Charles has done a great job in creating systems and processes and gathering top-notch staff. We will be fine, but we are so much better off now than when he came."
'Continued work together'
Today in Fort Bend, Dupre oversees a district of more than 76,000 students – 27% black, 26% Hispanic, 26% Asian, 16% white and about 5% other. Students and their families speak more than 90 languages and dialects.
Dupre is Fort Bend ISD's first black superintendent.
"I was very pleased to recommend him when he came back to the district," Baitland said. "He has a genuine love for people and a warm, caring attitude."
Student test scores in FBISD exceed the state average in every subject, and the district's graduation rate has increased to 94%. Voters also continue to support the fast-growing district, approving bond packages for $484 million in 2014 and $992.6 million in 2018.
When Dupre was honored at the College of Education's Star Awards event in April, nearly 20 members of his leadership team and school board, along with his wife, Seeju, attended in support.
The board extended his contract in 2018 through April 2022.
"During the last academic year, FBISD faced unprecedented challenges, including missed instruction and work days because of Hurricane Harvey and the consolidation of two campuses due to mold remediation," board president Jason Burdine said at the time. "We have been fortunate to have Dr. Dupre leading for the last five years, and we look forward to our continued work together on behalf of our 76,000 students and 11,000 employees."
–By Ericka Mellon
–Photo by Jaime Questell