UH Doctoral Student Publishes Research on Health Among the Homeless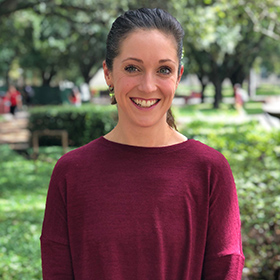 Posted Oct. 8, 2019 – As an athlete most of her life, Ashley Taylor long has been interested in physical activity and how it affects a person's overall health.
Now a second-year doctoral student in counseling psychology at the University of Houston College of Education, she's delving into research on health issues. Her article, "Physical activity and sleep problems in homeless adults," was published in the journal PLOS ONE in July.
Taylor and her co-authors found that homeless people who did not get the recommended level of physical activity were more likely to sleep excessively (10 hours or more a night) – a practice that has been associated with negative health effects.
Co-authors include College of Education professors Rosenda Murillo and Lorraine Reitzel, Tzu-An Chen of the UH HEALTH Research Institute, Michael Businelle and Darla Kendzor of the University of Oklahoma Health Sciences Center, and Lorna McNeill of the University of Texas MD Anderson Cancer Center.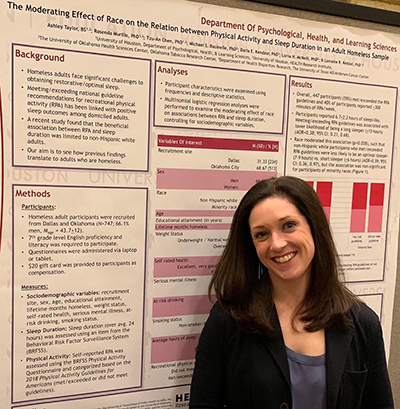 Expanding her research experience, Taylor is part of the UHAND Partnership, a collaboration between UH and MD Anderson to help eradicate disparities in cancer risks and outcomes. Taylor also is project coordinator for the Third Ward Wellness Study, a UH project aimed at promoting physical activity, healthy eating habits and positive parenting strategies for families with toddler-aged children.
Taylor recently took time to answer some questions.
Q: Are you a Houston native?
A: I am not. I was born in Bend, Oregon, and grew up in the Pacific Northwest. I was a competitive figure skater for 18 years, so I moved around a lot during that time. Before coming to Houston in June 2018 to pursue my Ph.D. in counseling psychology, I was living in the Dallas/Fort Worth area.
Q: How did your upbringing influence you?
A:  Growing up as a competitive figure skater taught me the value of hard work and dedication.
Q: Why pursue a career in counseling psychology? 
A: I have a strong desire to help people improve their overall well-being through addressing concerns related to physical, emotional and mental health.
Q: Your research revolves around health disparities among vulnerable groups, such as African Americans, Hispanics and homeless individuals. Why this focus?
A: Health disparities research is important for many reasons. There are many gaps in the literature that must be addressed, and in doing so, I am able to shed light on existing racial and ethnic health disparities, so that we may be able to enhance efforts aimed at disease prevention, health promotion and the delivery of appropriate care.
Q: What drew you to study the physical activity and sleep of individuals who are homeless?
A: Assessing the relationship between physical activity and sleep among individuals who are homeless was something that piqued my interest, as the relationship between these two constructs appears to differ significantly when compared to the general population.
Q: How do you feel about having your article published on PLOS ONE?
A: I was very excited to have gotten a paper published as first author during my first year as a doctoral student in a journal with a relatively high impact factor. 
Q: Who in Houston has been critical in your professional development?
A: My academic advisor, Dr. Lorraine Reitzel, has been instrumental in facilitating opportunities for research and fostering my professional growth. Additionally, I have learned a lot from Dr. Tracey Ledoux in working alongside her with the Third Ward Wellness Study. [Editor's note: Reitzel is a professor in the UH College of Education. Ledoux is an associate professor in the UH Department of Health and Human Performance.]
Q: What do you like to do outside of doing research?
A: I love spending time with my family. I also enjoy distance running and use exercise to deal with the stressors that come with being a Ph.D. student.
Q: Are you an avid reader? If so, any book recommendations? 
A: I am currently reading "The Anatomy of a Motive," written by legendary FBI profiler John Douglas. I enjoy reading books that pique my interest into the forensic side of psychology.
Q: Favorite study spot on campus?
A: The study rooms in the MD Anderson Library are great.
Q: Opinion on coffee?
A: Can one get through graduate school without coffee? I typically make my coffee at home, but I also like the coffee from Cougar Grounds. I especially like that Cougar Grounds is student run and operated.
Q: What would you say to students looking into enrolling at the UH College of Education?
A: For students considering enrolling, do your research and make sure it is a right fit for you and your academic goals.
Q: What do you love about the College of Education? 
A: What's not to love?
–By Alberto Huichapa
–Photo courtesy of Ashley Taylor