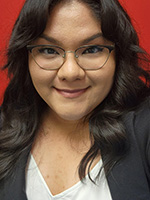 Administrative Coordinator
Office Location: Melcher Life Sciences 242D 
Phone: (713) 743-6975
Email: avgarci5@central.uh.edu 
Anita Cortez is the Administrative and Financial Coordinator the Department of Communication Sciences and Disorders. She coordinates the administrative operations of the department, including, but not limited to, human resources, and payroll. She oversees the financial operations of the department and assists the Department Business Administrator with reconciling financial accounts, monitoring revenue and expenditure budgets, and compiles financial monthly reports to maintain accurate records.