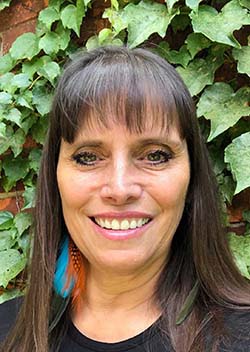 Lecturer
Religious Studies
M.A., Native American Studies
Email:lbclark@Central.UH.EDU
Biographical Summary
Laura Marshall Clark (Muscogee Creek) is an interdisciplinary scholar, author, and curator from Oklahoma. Most recently, she was a 2020-21 Fulbright U.S. Scholar to Ireland at University College Cork where her work centered in teaching Native American literature and aesthetics, guest lecturing in creative writing, and researching Celtic history, culture, and identity. In 2019 Clark was the inaugural Scholarly Fellow at Institute of American Indian Arts (IAIA) in Santa Fe, New Mexico. Her published works range from Native American fine arts to children's literature to historical fiction forthcoming. 
Clark is the independent curator for two fine art exhibitions in 2022: "Chiefs, Clans & Kin," opening at the Living Arts Center of Tulsa, Oklahoma, May 9, 2022, and at the Choctaw Cultural Center, Durant, Okla., July 23, 2022; and "Matrilineal: Legacies of Our Mothers," July 29, 2022, Santa Fe, New Mexico. In addition to curatorial projects, she also serves as a consultant to state and tribal programs, museums, and businesses through her company, WildHorse Consulting, LLC.
 
Education:
M.A. in Native American Studies at the University of Oklahoma, Norman
B.A. in Political Science at East Central University, Ada, Oklahoma.
Publications and Movies:
Laura Marshall Clark, "Something Strangely Happened," Ada: White Dog Press, 2022.
Laura Marshall Clark, "Uncommon Kinships: The Generous Reciprocity of the Choctaw Nation and Ireland," essay in "Crossing the Atlantic: Visual Culture at the Crossroads of Ireland and the United States," Cynthia Fowler and Paula Murphy (eds.),  London: Routledge, 2022. 
Laura Marshall Clark, "Artist Profile | Joanna Underwood Blackburn: Chickasaw Artist and Sculptor," "First American Art Magazine," Issue No. 29, Winter 2021. 
Laura Marshall Clark, "Creating During a Planetary Pandemic | Duhon James," (blog) "First American Art Magazine," July 28, 2020. http://firstamericanartmagazine.com/duhan-james. 
Laura Marshall Clark, "Reclaiming Space in Native Knowledges and Languages: The Clemente Course in the Humanities," "First American Art Magazine," Issue No. 23, Summer 2019. 
Laura Marshall Clark (ed.), "Art of Brenda Kingery," Chickasaw artist catalogue; editor and publisher, 2020.
Laura Marshall Clark (ed.), "Visual Voices: Contemporary Chickasaw Art," Edmond: Visual Voices, 2018.
Laura Marshall Clark, "Nittak Hollo Nakfish! It's Saturday!" Ada: Chickasaw Nation Division of Arts & Humanities, 2009; second edition, 2011.
UH Courses 
RELS 3396 Native American Spirituality & Tolerance