Robinson Continues Advocating for Students in AVP Position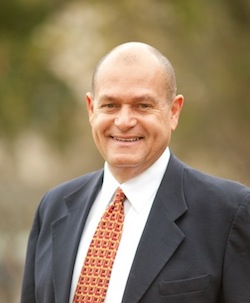 HOUSTON, Sept. 11, 2012 – After a distinguished 18-year career at the University of Houston Health Center, Floyd Robinson has stepped into the new role of assistant vice president for student affairs/health and wellness, which he says provides a greater opportunity for him to help students.
Robinson began his career at the university in 1994, when he was named director of the UH Health Center. During his tenure at the center, he introduced both the psychiatric and men's clinics for students as well as dental services to students, faculty and staff. In recognition for his dedication and achievements, UH honored him with a 2005 Staff Excellence Award. 
He is a member of several organizations including the Golden Key International Honor Society, the U.S. Association for the Club of Rome and the international honor society Phi Beta Delta Fraternity. 
What brought you to UH?
I came to UH seeking a job in public relations. I was told that the position of the director of the health center was open. I was reluctant to apply for the job. I had spent 13 years in administrative positions at the Texas Medical Center—first at MD Anderson then at Memorial Hermann. I wanted a change. I was convinced that if I took the job at the health center for one year, I would then do something else. Obviously, I don't count well.  
What are your responsibilities as assistant vice president for student affairs/health and wellness?
It's a brand new title for the area of student affairs. People from other universities have called me inquiring about the position. As the names implies, the position is responsible for all areas of health and wellness, ostensibly, for the students, both mental and physical well-being. I represent the health center, department of campus recreation, UH Wellness, and Counseling and Psychological Services (CAPS). I think this was a position that was necessary. I am appreciative of Richard Walker, vice chancellor/vice president for student affairs, for allowing me the opportunity to be the first person to step into this position.

What are the challenges you face with this position?
One of the challenges is to make sure that the four areas are linked together and are working together as a unit. For example, with the issue of weight loss, how wonderful it would be for us to say to a student you could participate in an exercise program at the Campus Recreation and Wellness Center or, if you're having difficulty losing weight, we have group counseling sessions in CAPS. UH Wellness could train students to educate other students about weight loss. Our psychiatric program may be able to suggest to patients suffering with depression a regiment that involves exercise and therapy. We don't have to exist in silos. We do have information we can share with each. I think this new process will bring about some outstanding results for our students.

How are you applying your previous experience to this new position?
I say this with all humility: I love people. I really strive to seek out the underdog, to seek out that person who is in need. My mother told me once, "Floyd, you cannot save the world." Although I loved my mother dearly, and still love her even though she is deceased, I said to her, and some people might think this was disrespectful, "Mother, I'm going to die trying." I think it's been inherent in me to try my best to help. At MD Anderson, I saw some patients waiting for chemotherapy alone. Often, they would be patients from other countries. I got into a routine of power-walking down the same hallway and talking to the patients, lending some support. Sometimes, I would hold their hands and answer questions. I always had this great desire to help people. That was apparent to me at the Texas Medical Center. I was assigned to committees and was allowed to explore some of the distinctive traits that I possess. The assistant vice president position here at UH is allowing me to continue to do want I love to do: to help people. 
Francine Parker