John W. Craft Jr.
Research Assistant Professor
Department of Biology and Biochemistry
Office: Science & Engineering Research Center, 4003
Contact: jwcraft@uh.edu - 281-538-1219
Education: Ph.D., University of Houston; B.S., Aerospace Engineering, Wichita State University
Dr. John W. Craft Jr. is an aerospace engineer from Wichita State University with a Ph.D. in biochemistry and chemical biology from the University of Houston. His interests fuse his Space Shuttle ascent guidance, navigation, and controls experience at NASA with biophysical studies using molecular dynamics simulations and nuclear magnetic resonance spectroscopy. He seeks to use the common mathematical foundations of engineering and biophysics to analyze the chemical environments that endow macromolecules their function and then impinge on that function though computational drug design.
Craft's research vision is to use computational chemistry, docking, and molecular simulations to find promising lead compounds and then test and validate those leads in a range of experimental settings that include spectroscopy, cell culture, and in-vivo mouse investigations. His research is focused on U.S. health issues such as heart disease and also on world health concerns such as cholera.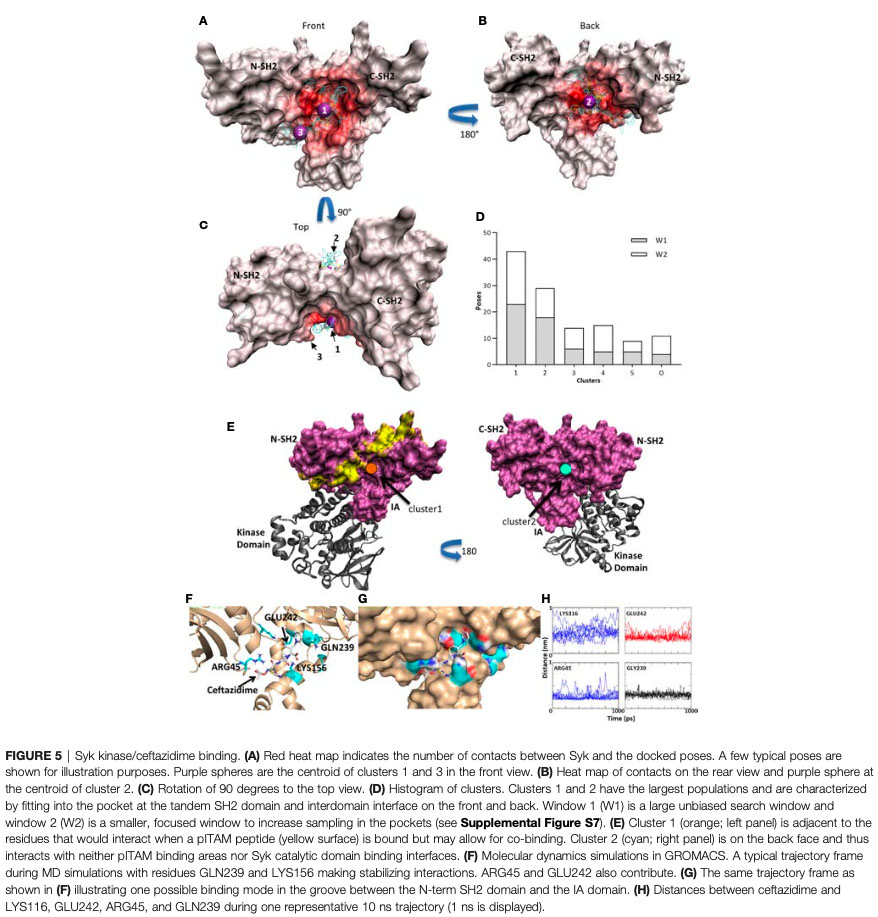 Top twenty-five structures from the Monte Carlo. Green residues are W36 and R19, key players in Pin-1 WW domain binding with the Proline(blue) / pSerine(red) motif of the peptide.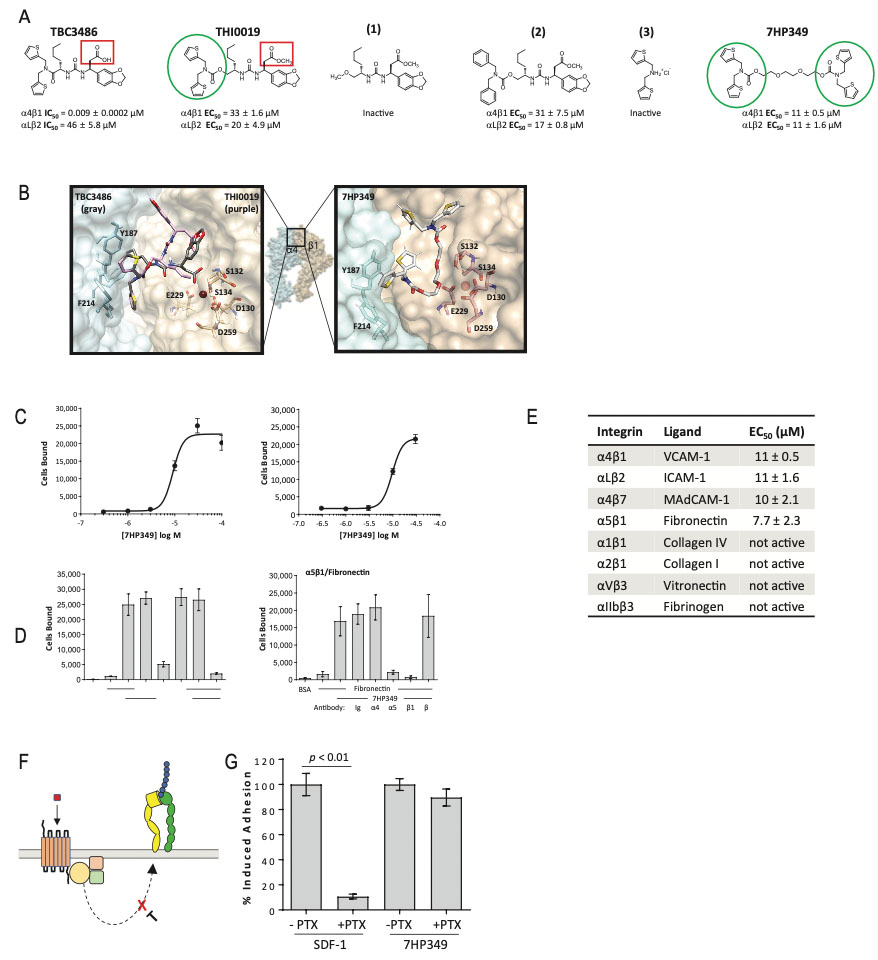 Lydia R. St. Hill, Hung-Vu Tran, Pawilai Chinwangso, Han Ju Lee, Maria D. Marquez, J.W. Craft, Jr. and T. Randall Lee; Antifouling Studies of Unsymmetrical Oligo(ethylene glycol) Spiroalkanedithiol Self-Assembled Monolayers; MACRO (2021)
Lydia R. St. Hill, J.W. Craft, Jr, P Chinwangso, H Tran, M.D. Marquez and T.R. Lee;Antifouling Coatings Generated from Unsymmetrical Partially 2 Fluorinated Spiroalkanedithiols; ACS Applied Bio Materials Feb 1 (2021) doi.org/10.1021/acsabm.0c01409
D Bakthavatsalam, J.W. Craft Jr., A Kazansky, N Nguyen, G Bae, A.R. Caivano1, C.W. Gundlach IV, A Aslam, S Ali, S Gupta, S.Y. Lin, H.D. Parthiban, P Vanderslice, C.C. Stephan and D.G. Woodside; Identification of Inhibitors of Integrin Cytoplasmic Domain Interactions With Syk; Front. Immunol., 08 January (2021) 10.3389/fimmu.2020.575085
Abbasgholizadeh R, Zhang H, Craft JW Jr, Bryan RM Jr, Bark SJ, Briggs JM, Fox RO, Agarkov A, Zimmer WE, Gilbertson SR, Schwartz RJ. Discovery of vascular Rho kinase (ROCK) inhibitory peptides. Exp Biol Med (Maywood). 2019 Aug;244(11):940-951.
Structural and cellular mechanisms of peptidyl-prolyl isomerase Pin1-mediated enhancement of Tissue Factor gene expression, protein half-life, and pro-coagulant activity. Kurakula K, Koenis DS, Herzik MA Jr., Liu Y, Craft JW Jr., van Loenen PB, Vos M, Tran MK, Versteeg HH, Goumans MTH, Ruf W, de Vries CJM, Şen M. Haematologica. 2018 Mar 15. pii: haematol.2017.183087. doi: 10.3324/haematol.2017.183087.
Magnetic Resonance Imaging of Atherosclerotic Plaque at Clinically Relevant Field Strengths (1T) by Targeting the Integrin α4β1. Woodside DG, Tanifum EA, Ghaghada KB, Biediger RJ, Caivano AR, Starosolski ZA, Khounlo S, Bhayana S, Abbasi S, Craft JW Jr., Maxwell DS, Patel C, Stupin IV, Bakthavatsalam D, Market RV, Willerson JT, Dixon RAF, Vanderslice P, Annapragada AV. Sci Rep. 2018 Feb 27;8(1):3733. doi: 10.1038/s41598-018-21893-x.
Cherubin P, Garcia MC, Curtis D, Britt CB, Craft JW Jr, Burress H, Berndt C, Reddy S, Guyette J, Zheng T, Huo Q, Quiñones B, Briggs JM, Teter K.

Inhibition of Cholera Toxin and Other AB Toxins by Polyphenolic Compounds

. PLoS One. 2016 Nov 9;11(11):e0166477. doi: 10.1371/journal.pone.0166477. PMID: 27829022.
Craft JW Jr, Shen TW, Brier LM, Briggs JM.

Biophysical Characteristics of Cholera Toxin and Escherichia coli Heat-Labile Enterotoxin Structure and Chemistry Lead to Differential Toxicity

. J Phys Chem B. 2015 Jan 22;119(3):1048-61. doi: 10.1021/jp506509c. Epub 2014 Nov 5. PubMed PMID: 25322200.
Craft JW Jr, Zhang H, Charendoff MN, Mindrebo JT, Schwartz RJ, Briggs JM.

Associations between the Rho kinase-1 catalytic and PH domain regulatory unit

. J Mol Graph Model. 2013 Nov;46:74-82. doi: 10.1016/j.jmgm.2013.09.009. Epub 2013 Oct 4. PubMed PMID: 24149321.
Rababa'h A, Craft JW Jr, Wijaya CS, Atrooz F, Fan Q, Singh S, Guillory AN, Katsonis P, Lichtarge O, McConnell BK.

Protein kinase A and phosphodiesterase-4D3 binding to coding polymorphisms of cardiac muscle anchoring protein (mAKAP)

. J Mol Biol. 2013 Sep 23;425(18):3277-88. doi: 10.1016/j.jmb.2013.06.014. Epub 2013 Jun 25. PubMed PMID: 23806656; PubMed Central PMCID: PMC3808176.
Anastasio NC, Gilbertson SR, Bubar MJ, Agarkov A, Stutz SJ, Jeng Y, Bremer NM, Smith TD, Fox RG, Swinford SE, Seitz PK, Charendoff MN, Craft JW Jr, Laezza FM, Watson CS, Briggs JM, Cunningham KA.

Peptide inhibitors disrupt the serotonin 5-HT2C receptor interaction with phosphatase and tensin homolog to allosterically modulate cellular signaling and behavior

. J Neurosci. 2013 Jan 23;33(4):1615-30. doi: 10.1523/JNEUROSCI.2656-12.2013. PubMed PMID: 23345234; PubMed Central PMCID: PMC3711763.
Carreño R, Brown WS, Li D, Hernandez JA, Wang Y, Kim TK, Craft JW Jr, Komanduri KV, Radvanyi LG, Hwu P, Molldrem JJ, Legge GB, McIntyre BW, Ma Q.

2E8 binds to the high affinity I-domain in a metal ion-dependent manner: a second generation monoclonal antibody selectively targeting activated LFA-1

. J Biol Chem. 2010 Oct 22;285(43):32860-8. doi: 10.1074/jbc.M110.111591. Epub 2010 Aug 19. PubMed PMID: 20724473; PubMed Central PMCID: PMC2963386.
Sen M, Herzik M, Craft JW Jr, Creath AL, Agrawal S, Ruf W, Legge GB.

Spectroscopic Characterization of Successive Phosphorylation of the Tissue Factor Cytoplasmic Region

. Open Spectrosc J. 2009 Jan 1;3:58-64. PubMed PMID: 20076769; PubMed Central PMCID: PMC2805860.
Ampapathi RS, Creath AL, Lou DI, Craft JW Jr, Blanke SR, Legge GB.

Order-disorder-order transitions mediate the activation of cholera toxin

. J Mol Biol. 2008 Mar 28;377(3):748-60. doi: 10.1016/j.jmb.2007.12.075. Epub 2008 Jan 5. PubMed PMID: 18272180; PubMed Central PMCID: PMC2441595.
Craft JW Jr, Legge GB.

An AMBER/DYANA/MOLMOL phosphorylated amino acid library set and incorporation into NMR structure calculations

. J Biomol NMR. 2005 Sep;33(1):15-24. PubMed PMID: 16222554.
Honors and Awards:
Silver Snoopy: for outstanding achievements related to flight safety. Presented personally by the astronauts of STS-93 as their recognition of excellence, 1996
Space Flight Awareness Award, 1998
Engineering Support Commendation MS4-98-014, 1998
2nd place winner – John S. Dunn Gulf Coast Consortium for Magnetic Resonance Conference: J. W. Craft, Jr. and G. B. Legge, NMR Isotope Filtering Techniques Applied to a Complex with Line Broadening Characteristics, 3rd John S. Dunn Gulf Coast Consortium for Magnetic Resonance Conference, Houston, 2009
Organizations, Outreach, Boards, Memberships:
American Institute of Aeronautics and Astronautics
American Heart Association
American Society for Pharmacology and Experimental Therapeutics
Protein Society