DSA News
May 08, 2023
The Student of the Year awards were announced at the Student Employee Nominee Luncheon on April 14, 2023. Adalia Espinosa and Madison Brown, University Career Services staff members and co-chairs of the event, provided opening remarks. They announced the names of all the nominees and presented them with nominee certificates and outstanding student employee pins. Dr. Monica Thompson, interim associate vice president and University Career Services executive director delivered the keynote address. The event had over 75 attendees, which included 35 students and their guests.
Dr. Thompson stated, "Student employment is impactful on our campus community. I love that our campus is helping students build skills and they will have evidence of a strong work ethic to share with their future employers. As a UH community, we are helping to change lives through these work experiences."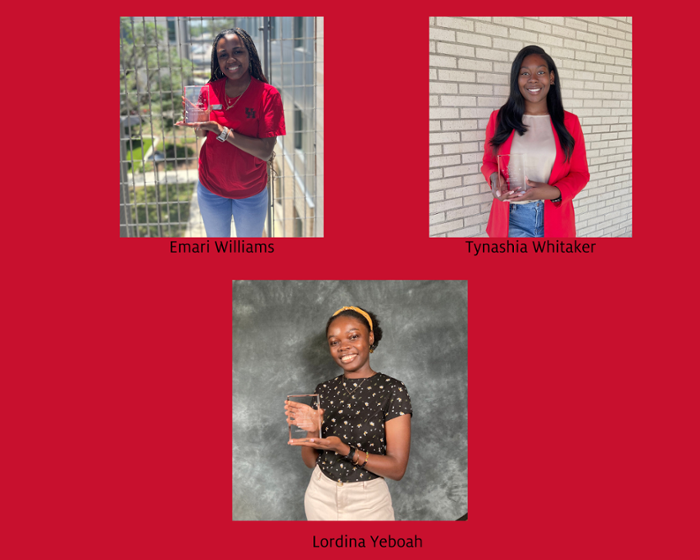 The Division of Student Affairs was proud to present our 2023 Graduate Student of the Year Award to Tynashia "Ty" Whitaker and our Undergraduate Student of the Year Award to Lordina Yeboah.
Tynashia "Ty" Whitaker, winner of the Graduate Student Employee of the Year award is pursuing her master's degree in the Department of Communications Sciences and Disorders (COMD) while working as a teaching assistant since the Fall of 2022. Tynashia is known as a champion of accessibility and is determined to ensure that no student is left behind due to an inability to access course materials. When Tynashia is not assisting in the classroom, she has taken the lead on several projects in the Child Language Ability Lab and has mentored undergraduates in the lab with a focus on administering, scoring, interpreting, and sharing results from norm-referenced tests of language in children. Tynashia is an invaluable asset to COMD's instructional and research enterprises.
The Undergraduate Student Employee of the Year recipient, Lordina Yeboah, is a senior in the College of Architecture. The committee chose her for many reasons including how Lordina through passion and hard work transformed the Cougar Cupboard into an amazing space. Lordina used her knowledge of Architecture to elevate the Cougar Cupboards' efficiency using architectural design skills. She also developed ways to expand the storage area whenever it was needed.
Brown said, "Each student's exceptional leadership skills and community engagement have been truly inspiring. It was a pleasure recognizing nominees who were awarded for their outstanding work on campus, in its community, and overall community engagement. I am excited to see what these students will do next and the positive impact they will undoubtedly continue to make in the future." Lordina also created social media posts and marketing materials to help her team. She was seen by her team as an inspiration and a team player who encourages others to work as hard as she does.
Two other award winners included Radhika Sonde, a senior majoring in Computer Science with a minor in Mathematics and a part of the Enterprise Systems and Emari Williams, a junior majoring in Political Science.
Radhika Sonde won the Outstanding Leadership Award due to her exceptional leadership qualities. As a student worker in our division, Radhika has made invaluable contributions to our team. She completed the proof of concept for branding student self-service that utilizes student focus group findings and analytical data used to redesign the student self-service initiative based on the findings received. In addition, she exhibits an extraordinary ability to communicate complex concepts clearly and concisely.
Emari Williams was chosen to win the Outstanding Diversity & Inclusion Award, which is well-deserved. Emari serves as part of the Cougar Village 1 (CV1) desk assistant team and has a reputation for showing a great passion for diversity and inclusion.
Team members have said, "They feel accepted because of how she takes time to get to know everyone's life experiences and recognizes that each person has their own unique experience." Emari was recently accepted into the NASPA Undergraduate Fellows Program. This program's mission is to increase the number of underrepresented professionals in student affairs and higher education. Emari believes that it is important to surround herself with diversity to better understand the challenges that diverse groups may face.
The committee spent hours developing the awards process, choosing the winners, and planning the luncheon.
Espinosa stated, "Reading 65+ nominations, it was clear that our student employees are resourceful, equity-minded, problem-solvers. It brings our office extraordinary pride to know that departments are developing the next generation of leaders through student employment."