DSA News
April 12, 2023
The University of Houston (UH) is honored to celebrate our outstanding student employees at our annual Student Employment Nominee Luncheon as part of the Student Employment Week sponsored through the National Student Employment (NESA). The luncheon is Friday, April 14, 2023, and concludes Student Week 2023 which includes a series of programs and activities to honor on-campus student employees and their supervisors.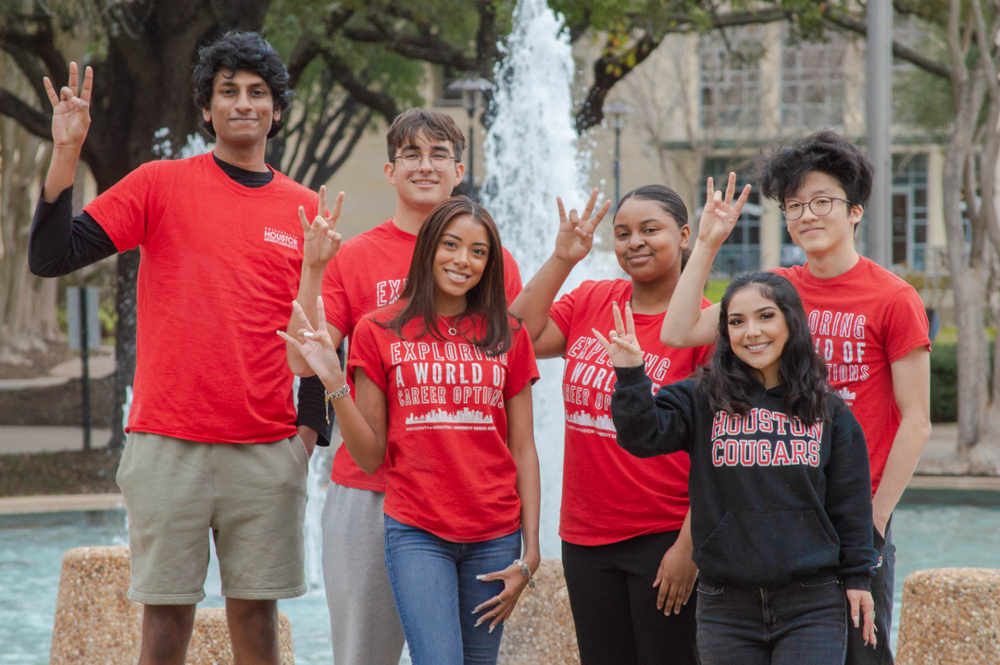 University Career Services will also host a workshop on Wednesday, April 12, 2023, called "Translating My On-Campus Work Experience to My Professional Resume & Resume Reviews" at the Student Center Skyline Room. This workshop is designed to help UH student employees add their work experience, technical skills, and interpersonal skills to their resumes. This event will also include lunch and all interested students should RSVP on Cougar Pathway as seating is limited. For more information, view the event webpage.
This year, we received over 65 nominations for various categories from supervisors, colleagues, faculty, and staff, all recognizing student employment excellence! Nominations were reviewed by 17 reviewers, made up of UCS professional staff and trusted campus partners. Each nomination was scored by 3 independent reviewers using NSEA scoring rubrics. This year, two new categories were added to celebrate outstanding student employees' efforts in two career readiness competencies: Leadership and Diversity & Inclusion.
Judges from across campus blindly reviewed the nominations, evaluating students on several factors:
Reliability: Nominee's ability to get things done, timely job completion, conscientiousness.
Quality of Work: Duties and tasks completed by the nominee exceed expectations.
Initiative: The nominee expresses interest in assuming added responsibilities and demonstrates a proactive approach.
Professionalism: The nominee maintains professionalism while interacting with others in the office and provides excellent customer service.
Uniqueness of Contribution: The nominee's ability to go "above and beyond" standard work expectations, demonstrates leadership abilities, and the nominee's impact on your department, campus, and community.
Event Coordinator and UCS staff member Adalia Espinosa stated, "UH Student Employees are performing incredible services, producing research, and executing ideas that leave a lasting impact on our campus. Our students are often balancing a part-time job with studies, families, and outside commitments. It has been so great to be able to celebrate our student staff through Student Employment Week and even better to recognize them campus-wide."
At the Student Employment Nominee Luncheon, hosted by University Career Services, the top five undergraduate and graduate nominees and their nominators will be honored for their work over the past year. The award recipients will be announced at the luncheon and will receive their plaques at the Campus Leaders Ceremony on April 19, 2023. Madison Brown, UCS staff member and luncheon co-host stated, "UH student employees are truly exceptional individuals who embody the spirit of hard work, dedication, and excellence. They are not only balancing their studies but also contributing their skills and talents, making a positive impact on campus and beyond."
The National Student Employment Association (NESA) is comprised of hundreds of professionals who oversee college student work programs. The week of April 10-14 is an opportunity to lift the work of our student employees and recognize students who have gone "above and beyond" by exceeding minimum expectations at the workplace. During this week, colleges and universities across the country recognize student workers' valuable contributions to their campuses. Student employment offers students career-enhancing opportunities, the ability to develop transferable skills, and preparation for the job market upon graduation. "The dedication of student employees, combined with the guidance and mentorship of faculty and staff, also creates a powerful force that drives innovation and progress. I enjoy witnessing the achievements of both groups, for they are a true testament to the collaborative spirit and passion that drives our community forward" added Brown.