DSA News
July 19, 2023
The Division of Student Affairs (DSA) is thrilled to welcome Sara Rodriguez as the new Records Associate II–SEVIS Compliance at the International Student and Scholars Services Office (ISSSO). As a born and bred Houstonian and a future UH Alum, Sara brings her passion for helping international students to her new role, where she will provide essential support and guidance to ensure compliance with U.S. government regulations.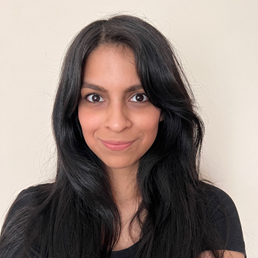 Sara's academic background is rooted in her love for culture and history. She holds bachelor's degrees in art history and Anthropology, displaying her diverse interests and dedication to understanding different societies and their artistic expressions. This interdisciplinary knowledge equips Sara with a unique perspective when assisting international students and scholars from all over the world.
Joining the ISSSO staff in 2021, Sara has already made a significant impact on the campus community. Her unwavering dedication to supporting international students and her drive to continuously learn and grow in the field of international education have set her apart as an asset to the university.
Sara's linguistic abilities further contribute to her effectiveness in her role at ISSSO. Fluent in English and Spanish, she can communicate seamlessly with a diverse range of students and scholars. Additionally, she possesses intermediate knowledge in French and continues to expand her language proficiency to better assist the international community at UH.
As the new Records Associate II–SEVIS Compliance, Sara provides essential front-line support for students, scholars, alumni, and their dependents. She assists non-immigrants with requests that do not require appointments, demonstrating her commitment to accessibility and timely assistance.
Sara's warm and friendly demeanor creates a welcoming environment for students seeking guidance and support. Her deep understanding of the complexities of U.S. government regulations, combined with her genuine desire to help others, ensures that international students and scholars at the University of Houston receive the assistance they need to remain compliant during their academic journeys.
Beyond her professional responsibilities, Sara has a vibrant personal life that reflects her diverse range of interests. She has a deep appreciation for sports of all kinds and can often be found enthusiastically cheering on her favorite teams. Additionally, she finds solace in gardening and immersing herself in nature, allowing her to recharge and find inspiration outside of the office.
One of Sara's passions lies in behavioral training for cats and dogs. She has honed her skills in this area and enjoys helping animals and their owners develop healthy and harmonious relationships. When she is not working or engaging in her hobbies, Sara loves talking about her two beloved cats, Mort, and Maude, who bring joy and companionship to her everyday life.
The Division of Student Affairs and the International Student and Scholars Services Office are privileged to have Sara Rodriguez as part of their team. "Her dedication, passion, and commitment to the success of international students make her an invaluable asset to the ISSSO and DSA," said Director, Dr. Jin Zhang. With Sara's presence, students can feel confident in their ability to navigate the intricacies of studying in the United States, knowing they have a compassionate and knowledgeable advocate.