DSA News
June 14, 2023
The Division of Student Affairs hosted a Staff Reception to recognize and honor individuals who have recently obtained degrees or certificates and to celebrate the dedication and commitment of employees pursuing various educational goals.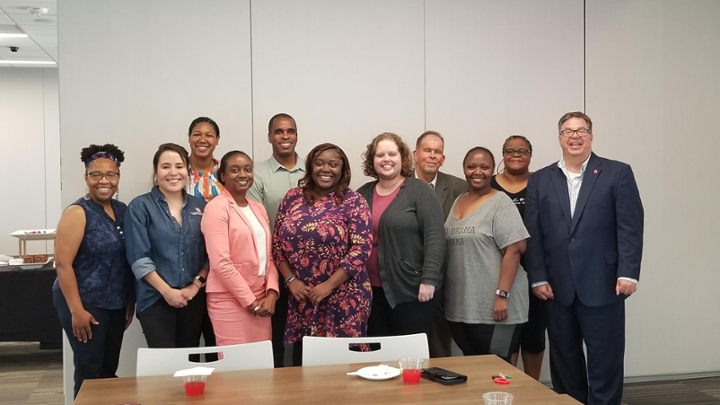 Dr. Daniel Maxwell, interim vice chancellor/vice president of student affairs, hosted the Staff Reception to provide a platform to acknowledge the academic accomplishments of the division's staff. Dr. Maxwell, who himself pursued his doctorate degree while working full time, highlighted the immense value of continuing education while juggling professional responsibilities. His personal experience resonated with the attendees.
Each staff member had the opportunity to introduce themselves and discuss their ongoing educational pursuits. The event displayed the diverse range of degrees and certificates being pursued, including Associate, Bachelor, Master, Doctorate, and various professional certifications. The gathering allowed staff members to gain insights from one another, fostering a sense of collaboration within the division. The relaxed and inviting atmosphere created the perfect backdrop for the staff members to engage in meaningful conversations and share their educational journeys.
The division supports its employees in their educational endeavors, recognizing that their growth and development ultimately benefit the entire campus community. Dr. Maxwell expressed his pride in the staff members' achievements, stating, " Our employees' dedication to pursuing their educational goals while contributing to the success of our division is truly commendable."
By celebrating the accomplishments of its staff, the division fosters an environment that nurtures the pursuit of knowledge and elevates the overall quality of education provided to its students. You can view a list of the staff members, their departments, and their educational pursuits.