DSA News
April 28, 2023
The Division of Student Affairs (DSA) was proud to take part in the Houston March for Babies: A Mother of A Movement. Houston raised over 1.3 million dollars so far, with a total goal of 1.6 million dollars, and the DSA staff was happy to help contribute.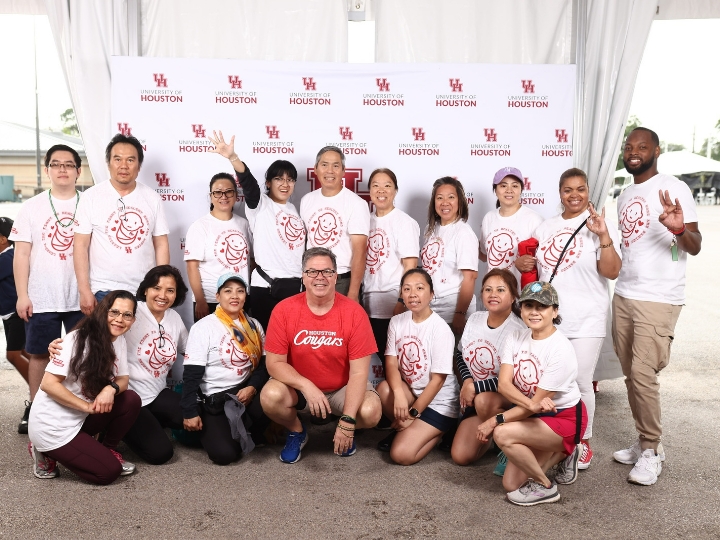 March of Dimes is a nonprofit organization that leads the fight for the health of all mothers and babies and supports research and programs that provide education and advocacy that have a tremendous impact on the local community. The mission of the March of Dimes is to lead the fight for the health of all moms and babies. Their goals are to end preventable maternal health risks and deaths, end preventable preterm birth and infant deaths, and close the health equity gap March for Babies: A Mother of a Movement raises money to help provide newborn screenings and funding for research, education, and resource programs. We asked our staff to consider participating in this year's March for Babies fundraiser and be an advocate for healthy moms and strong babies and they answered the call.
During this year's fundraiser March for Babies: A Mother of A Movement, was an opportunity for staff in the University of Houston (UH) campus community to come together to help raise money and awareness for dangerous maternal and infant crises affecting the United States and particularly babies of color. The March of Dimes offers many ways to help this important mission such as hosting community walks or creating a Do-It-Yourself fundraiser and the DSA hosted and participated in multiple ways!
The DSA sold candy, popcorn, and other treats to raise money for the March for Babies. Kyle Mutz, director of the Justin Dart, Jr. Student Accessibility Center and Cynthia Olmedo, assistant director, of career services, University Career Services (UCS) stepped up and hosted an event on April 14th for staff, faculty, and students to buy a coffee and chocolate biscotti cookies for five dollars. These proceeds were donated to March for Babies fundraiser. Mutz said, "The March for Babies event was truly a wonderful experience. I got an opportunity to work with and meet so many great people. Next year, I plan to support this event to make it even better! I am so appreciative to get the opportunity to serve this great community." On Sunday, March 23rd, the division participated in the annual March for Babies fundraiser and the turnout was awesome. DSA is proud of the Student Centers' teams as they raised the second-highest amount across the multiple teams representing UH and all the UH teams together have raised a grand total of $20,000 so far.
The DSA wants to thank all staff who volunteered, put in the work, and donated to the cause. Your generosity made an enormous impact, and we are so proud. We appreciate all who served to make this another successful year working to help babies and moms during our annual March of Dimes fundraiser.