DSA News
May 31, 2023
The Division of Student Affairs (DSA) is delighted to announce the permanent selection of Laura Zavala-Membreno as the Director of the Women and Gender Resource Center (WGRC). Laura was chosen to lead the WGRC to foster an inclusive and supportive environment for all university community members. Laura said, "My interim experience at the WGRC has done nothing but affirm my desire to continue to carry its mission forward. I am grateful for the opportunity to serve as Director and to work with such a talented and passionate team of staff. Collectively, we are excited for the future of WGRC."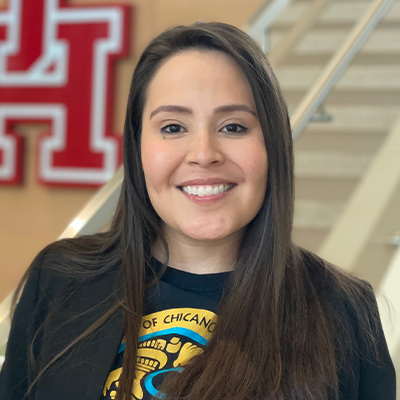 Laura has been a University of Houston (UH) Cougar since 2004 when she began her collegiate experience as an undergraduate pursuing a bachelor's in psychology with a minor in Mexican American Studies. Laura continued her educational journey and obtained her master's in counseling in 2011. Laura is currently pursuing her doctorate in Higher Education Leadership and Policy Studies at the UH College of Education.
As the Interim Director of the WGRC, Laura has demonstrated exceptional leadership, dedication, and a deep commitment to advancing gender equity, empowerment, and education. Her visionary approach, strong advocacy skills, and unwavering support for marginalized communities have made a lasting impact on our campus. Laura has an impressive background that includes community experience, innovative programming ideas, and an ability to engage and collaborate with diverse stakeholders.
Laura also volunteers by serving as a co-chair for the DSA Diversity, Equity, and Inclusion committee and as a mentor for the Las Comadres College Mentoring Program, a support space for Latina graduate students. Laura is also a member of the National Association of Student Personnel Administrators (NASPA) and the Texas Association for Chicanos in Higher Education (TACHE).
Laura brings a wealth of expertise to her new role through her experience working in the community for a non-profit agency where she did gender equity work. She consistently champions the advancement of women and gender-diverse individuals. In her new capacity as the permanent Director of the WGRC, Laura will continue to enhance the resources, services, and programming offered by the center. Her strategic vision includes expanding educational opportunities, increasing awareness of gender-related issues, and advocating for policies that promote inclusivity, equality, and respect for all individuals. Under her leadership, the WGRC will remain a vital resource for the university community, fostering an environment where everyone can thrive.
Dean of Students, Donell Young said, "I am elated that Laura has accepted the Women and Gender Resource Center Director position. She is an experienced higher education professional that brings years of experience and proficiency in student success and development. Laura has been active in the Division of Student Affairs through various involvement opportunities and volunteering positions, including leadership on the DSA Diversity, Equity, and Inclusion Committee. I am confident Laura will bring a fresh perspective to the Women Gender Resource Center."
Please join us in congratulating Laura Zavala-Membreno as the permanent Director of the Women and Gender Resource Center. We look forward to witnessing the continued growth and success of the WGRC under her inspiring leadership.