DSA News
June 02, 2023
The Division of Student Affairs is proud to announce Ja'Nelle King, Director of the Center for Fraternity and Sorority Life (CFSL), as the recipient of the prestigious Golden Paw Employee of the Month award for May 2023. This recognition is a testament to Ja'Nelle's outstanding dedication, exceptional work, and selfless volunteer efforts at the Center for Student Involvement.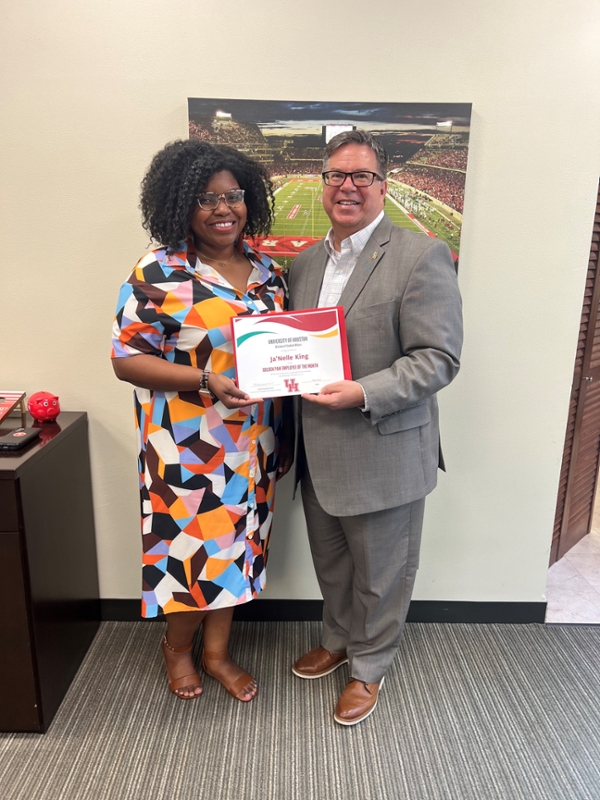 Ja'Nelle was nominated for this esteemed award by Katy Kaesebier, Interim Director of the Center for Student Involvement (CSI), who commended Ja'Nelle for her exceptional contributions to both CFSL and the CSI. Katy highlighted Ja'Nelle's remarkable commitment and numerous hours spent assisting the CSI with their Frontier Fiesta event, the BBQ Cook-Off.
Despite being short-staffed, Ja'Nelle went above and beyond her normal job responsibilities to support the preparation, management, and execution of the BBQ Cook-Off. She flawlessly coordinated judges for the six distinct categories, efficiently managed the event's tent throughout the weekend of Frontier Fiesta, and diligently collected submissions while overseeing the judging and scoring processes. Furthermore, Ja'Nelle played a pivotal role in determining the winners in each category, displaying her exceptional organizational skills and dedication. Ja'Nelle said, "I'm honored to be recognized as this month's Golden Paw winner. It means a lot to me to be able to support my colleagues within the division, especially with this long-standing campus tradition that is near and dear to me and my professional experience at the University of Houston (UH)."
Ja'Nelle's unwavering dedication, enthusiasm, and team-oriented mindset have exemplified her as not only a dedicated employee but also a valuable team player. Her extraordinary efforts at the Frontier Fiesta BBQ Cook-Off event show her commitment to supporting her colleagues and the division.
Please join us in congratulating Ja'Nelle King on this well-deserved recognition as the Golden Paw Employee of the Month for May 2023. Her outstanding work and selfless volunteerism inspire all members of the staff in the Student Affairs division.