DSA News
March 15, 2023
The Center for Diversity and Inclusion proudly sponsored the 2023 Martin Luther King Jr. Commemorative Celebration in collaboration with the MLK Jr. Celebration Planning Committee, a dedicated group of University of Houston community members. This celebration was an opportunity for the UH community to celebrate and reflect on the legacy and life of civil rights leader Dr. Martin Luther King Jr.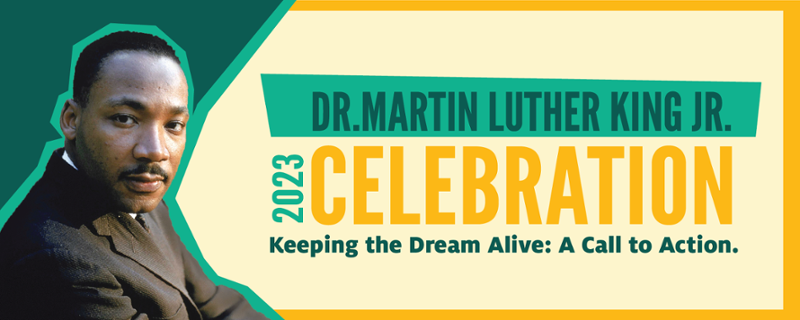 This year's theme was Keeping the Dream Alive: A Call to Action, invited Coogs to continue Dr. King's fight for social justice and his pursuit of equity.
This year MLK Jr. Celebration featured a series of events open to the UH community. The committee kicked off the weeks of events by celebrating with the city of Houston at the Original MLK Jr. Parade and Festival, presented by the City of Houston and Black Heritage Society. UH students, staff, and alumni rolled through downtown Houston on the UH float accompanied by the Spirit of Houston Cougar Marching Band, Cougar Dolls, and cheerleaders.
Other highlights of the MLK Jr. Celebration included the annual MLK Gallery presented by Student Centers. This installation detailed King's life and milestones.
This year's calendar of events also comprised of several student-led initiatives. Student Government Association held an essay contest, which invited students to reflect on the legacy and life of Dr. King through some appealing prizes. Black Student Union (BSU) co-hosted its first Poetry Slam in partnership with Rice University's Black Student Association. Student Program Board also coordinated a showing of King Richard, a film based on the lives of tennis superstars Venus and Serena Williams and their journey being coached by their father Richard Williams.
The commemorative celebration held on January 25 featured Prison Reform Activist and Justice Seeker Dr. Yusef Salaam, who was wrongfully convicted in the "Central Park Jogger" case along with four other Black and Latinx young men, known as "The Exonerated Five". Houston Poet Laureate Outspoke Bean opened the celebration and attendees were invited to act by engaging with Greater Houston community organizations.
In preparation of this year's speaker, BSU also hosted a screening and discussion of Netflix's "When They See Us", which invited students a space to share their thoughts on the case. Leah Adams, President of BSU shared "BSU was so excited to be a part of this celebration, we look forward to being a part of this event every year"
The Center for Student Involvement's MLK Day of Service wrapped up the celebration, offering the UH community and campus partners a call to action by directly serving the Houston through a range of projects.
Dr. Elwyn Lee, MLK Jr. committee co-chair, stated "As a veteran member of the planning committee I was very satisfied with the weeks of celebrating Dr. Martin Luther King Jr. this year because we achieved our goal of engaging the students in the planning process. The result was a variety of creative events which stimulated all our senses as we encouraged conversation on serious social justice issues and level of youthful excitement. Our speaker raised our consciousness about the flaws in the criminal justice system as an exonerated person who spent years in jail; Houston's poet laureate did the same in a lyrical way; and there was much engagement with representatives from community organizations who were in attendance"
Michael Crook, co-chair of the MLK Jr. Planning Committee and Interim Director for the Center for Diversity and Inclusion stated "I was honored to work with such a dedicated committee to plan this year's celebration. This was evidence of what can happen when departments from across campus work together with students; we create something beautiful and meaningful. We had increased student involvement on the planning committee, and I am positive their perspective and events elevated the overall celebration. Dr. Salaam's remarks reminded us that we must continue to work for justice for all; it is not inherently given. I cannot wait to see what ripples may come from this event."
Missed the commemorative celebration? Visit uh.edu/mlk to watch the livestream and check out our gallery of pictures.
2023 MLK Jr. Celebration Committee Members:
Michael Crook (Co-chair) - Interim Director, Center for Diversity and Inclusion
Dr. Elwyn Lee (Co-chair) - Vice President, Neighborhood and Strategic Initiatives
Andre Adams - Director, A.D. Bruce Religion Center
Leah Adams - President, Black Student Union
Victor Castro - Director of Multicultural Affairs, Student Government Association
Dr. Tara Green - Director, African American Studies
Zuhayr Haq - Assistant Director, Council for Cultural Activities
Karl Hearne - Executive Assistant to the VP, Neighborhood and Strategic Initiatives
Dr. Erika Henderson - Associate Provost, Office of the Provost
Meli Iracheta-Guerra - Web Project Manager and Student Life Marketing Manager, Student Affairs and Student Affairs IT Services
Dr. Raven Jones - Director, Center for Student Empowerment
Katy Kaesebier - Interim Director, Center for Student Involvement
Sarah Khan - Director, Council for Cultural Activities
Keith Kowalka - Assistant Vice President, Student Affairs
Amber Molhagen - Assistant Dean, College of Social Work
Carlie Pierre - Program Manager II, Center for Diversity and Inclusion
Dr. Byron Ross - Faculty, Communication Disorders
Samantha Sadeghi - President, Student Program Board
Kim Shaw-Reed - Associate Director, Student Centers
Sondra Tennessee - Associate Dean, Law
Dr. Kevin Thompson - Program Manager, African American Studies
Jarrel Washington - Director, Community Relations
Donell Young - Associate Vice President, Student Affairs and Dean of Students