DSA News
January 24, 2023
Karen Jubert, a counselor for the Division of Student Affairs Counseling & Psychological Services (CAPS), has been named the Golden Paw Employee of the Month winner for January 2023.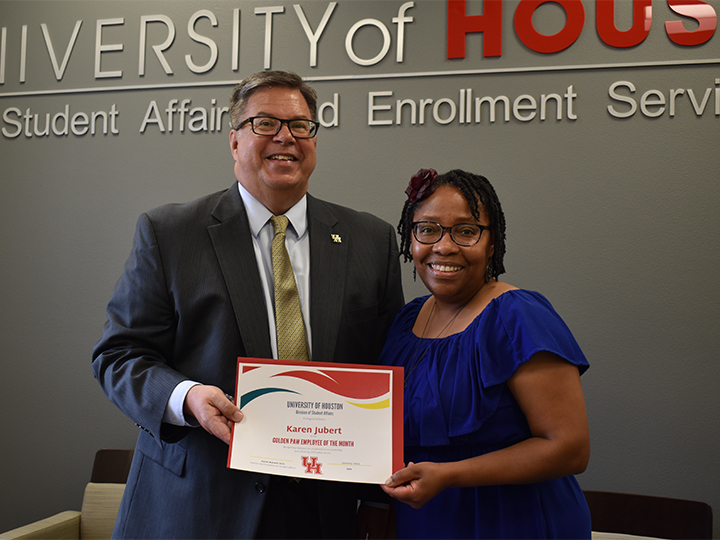 Karen was recognized for exceeding the expectations of her position as a counselor. Over the past four semesters, she has taken on extra work leading the Sista Circle, a student group for black graduate students. She uses her leadership position in the Sista Circle group to share resources and develop partnerships in support of the students. "I believe that when it comes from the heart, it reaches the heart," Karen said, "and that's the approach I take in my daily role as a Coog!"
"Not only is she the most student-requested counselor, but Karen is also always willing to step up to any challenge and help those in her department, already equipped with a solution to any problem. During long and busy semester hours, Karen stepped up to assist in managing a tabling event with Student Government Association (SGA) as other staff members were asking for extensions on deadlines," said Dr. Marti Trummer, assistant director counseling and psychological services.
Consistent in her communication, Karen is known for updating her colleagues and responding to requests promptly. She goes above and beyond by initiating programs, increasing CAPS collaborations, and producing culturally responsive workshops. Overall, Karen demonstrates true strength in planning and executing her responsibilities as a counselor.
When asked to explain what the award meant to her, Karen said: "I feel honored for being acknowledged for simply doing what I enjoy and feel purposed to do: extending hope, reducing stigma, and creating brave spaces of support."
Congratulations again to Karen for being named the Department of Student Affairs January 2023 Golden Paw Employee of the Month winner.