DSA News
March 07, 2023
Michael Iwuchukwu, a sign language interpreter at the Justin Dart, Jr. Student Accessibility Center (JDSAC), has been named the Golden Paw Employee of the Month winner for February 2023.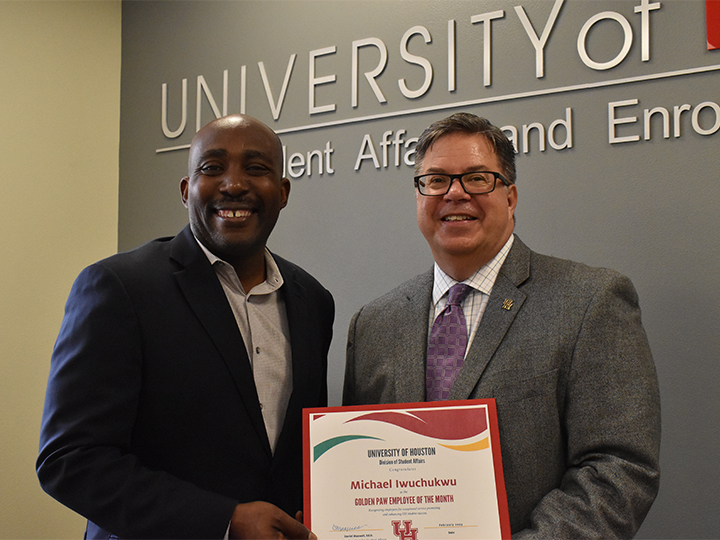 Michael is a consistently requested interpreter due to his high efficiency in sign language and his belief in partnering with students to provide the best access to course materials. Through his five years working at the JDSAC, Michael has worked with numerous students and has successfully built a relationship with each one. Specifically, Michael worked with a recent graduate here at the University of Houston, and when her time to walk the stage came, she gifted Michael her graduation chord as a thank-you for the time, effort, and care he put into her academic journey.
Christie Penzien, assistant director of Communication Access nominated Iwuchukwu for the award. Penzien stated, "he is the type of person that you look forward to working with every day because of his positive and caring demeanor." Michael is known around the JDSAC for his willingness to help and extend beyond what is expected of him. He never fails to prepare ahead of time for any student that needs his help, studying and memorizing terms that relate to their academic field before he even steps foot in their classrooms to interpret. "Interpreting is a collaborative process," Penzien said, "and Michael goes above and beyond to make sure that our deaf students have an equitable learning experience."
Penzien also stated, "this is the kind of person that Michael is for our students and our team every day. This is the kind of person that deserves to be noticed and awarded."
Congratulations again to Michael on being awarded the Division of Student Affairs February 2023 Golden Paw Employee of the Month.