DSA News
March 15, 2023
Congratulations to Hope Pacheco on her participation in the American Association of Hispanics in Higher Education, Inc. (AAHHE) Graduate Student Fellows Program (GSFP). The primary goal of the AAHHE Graduate Student Fellowship Program is to prepare Latina/o/x doctoral scholars for successful careers in academia and provide support to Latina/o/x scholars interested in pursuing careers within administration and policy in postsecondary education.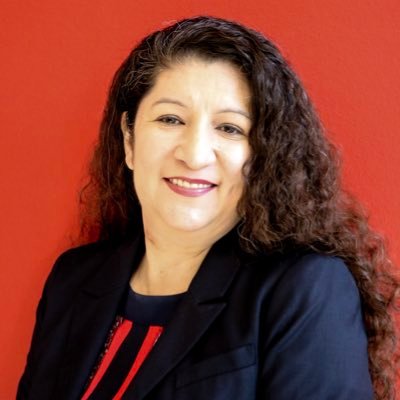 Hope serves as one of the four Assistant Deans in the Dean of Students (DOS) department and has been with the University of Houston (UH) since January 2014. Hope's position allows her to engage and support students who may need specialized support in accessing services and resources that can help them stay on track to graduate. Hope is a trained licensed social worker and has been working to support students of all ages to succeed in their educational settings for 20 years. She loves working with and on behalf of students! Hope is a part-time doctoral student in the Higher Education Leadership and Policy Studies program at UH. She is a mom of four children from middle school to college. She is a proud first-generation college graduate, a Forever "Coog," and a UH alum from the class of 2002. Her hobbies include cheering on all Houston sports teams, reading, and genealogy research. Hope's supervisor, Dean Young stated, "Hope is a valued member of the University of Houston community. She deserved to be selected as an AAHHE-Graduate Student Fellow. Hope's service to UH students over the past 9 years exemplifies her dedication and commitment to student development. I am exhilarated that Hope is a member of the Dean of Students' Team."
Hope Pacheco's approach to her work, research, and engagement with students is shaped by her identities and experiences. Hope is a self-described proud Latina/Chicana, "mami-scholar," recovered high-school drop-out, first-generation college graduate, scholar-practitioner, mentor, researcher, social worker, advocate, educator, and equity-minder administrator. Throughout her career, Hope has worked on behalf of students by helping to advance their educational opportunities at UH. Pacheco's goal is to create opportunities to help Latina/o/x students to succeed both academically and in their careers. Hope believes in nurturing and developing students to help them feel a sense of belonging.
This led her to co-found Las Comadres College Mentoring Program which is designed to pair first-generation undergraduate Latina students with similarly identifiable faculty, staff, graduate students, and community members. In addition, Hope serves as Co-Principal Investigator (PI) on a longitudinal study with Las Comadres that examines the experiences of Latina students, staff, and faculty at the University of Houston (UH), a Hispanic-Serving Institution (HSI).
Pacheco's candidacy research study "Exploring the Experiences of Latina Front-facing Staff in a Latina College Mentoring" aims is to center, explore, and examine the perceptions and experiences of Latina front-facing staff who have participated as mentors in Las Comadres. Hope said, "Being selected as an AAHHE-Graduate Student Fellow was an honor. I am so grateful to the community of Latinx scholars and leaders who provided a community of support over the last year to further my career and educational goals to continue to grow as a scholar-practitioner and make progress toward my doctoral journey. I truly appreciate the support of my department and division leadership to continue to pursue professional and educational development."
The AAHHE also seeks to provide strategies to help scholars achieve their educational and professional goals. The organization provides constructive feedback on graduate student fellows' research and builds a networking community with Latina/o/x scholars. To be considered for this fellow's program through this prestigious organization, GSFP applicants must demonstrate the following:
Applicants must be Latina/o/x that be enrolled in a doctoral program.
Applicants must aspire to enter a postsecondary professoriate and or an administrative career.
Applicants must exhibit a record of accomplishment of service to the Hispanic and/or Latina/o/x community.