DSA News
July 20, 2023
Gracie Villarreal received three separate nominations for the Golden Paw Award and has proven to be a wonderful and successful member of the division. Throughout this past school year's finals season, Gracie exhibited numerous forms of leadership as she led her team in an "all hands-on deck" approach as they prepped their department with procedures to administer, proctor, scribe, and deliver hundreds of exams.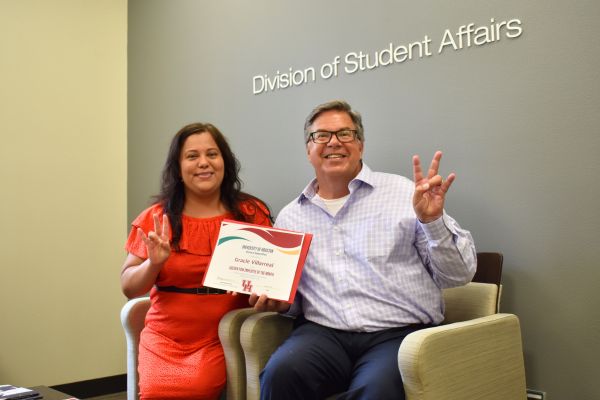 In her position as a Testing Services Coordinator, Gracie has stayed past regular hours numerous times to accommodate students, who due to unforeseen circumstances, started their exams late. Even though the JDSAC closes at 5 p.m., Gracie stayed past closing to ensure that students are given adequate time to take their exams. Gracie said, "I am absolutely honored to have been selected for the Golden Paw Employee of the Month Award. Thank you to my colleagues Suva, Michael & Assistant Director, Christie for nominating me for the award and for their kind words. I work with amazing, passionate & dedicated co-workers that equally share my drive & commitment to help our students be successful in their academic & professional goals. I am blessed to be part of such a special team of co-workers and administrators. Their support, encouragement & guidance helps every day with the work I do at Justin Dart, Jr. Student Accessibility Center."
The staff at the JDSAC receive constant positive feedback from students regarding Gracie's performance. Many students remarked how pleasant she was and how efficient their testing process was, and how Gracie was an incredible help in making them feel much more relaxed during their tests. Kyle Mutz, Director, JDSAC stated, "Gracie has played a critical role in elevating the Dart Center's alternative testing services to the next level of professionalism, integrity, and most importantly providing students with outstanding services. The work she does is so important for the retention of our students and for providing support to all colleges. Faculty, students, staff, and our entire team all have high praise for the work she does and the person she is. Congratulations Gracie on the well-deserved recognition"!
Additionally, Gracie has been recognized for identifying areas of inefficiency in testing & developing new initiatives to streamline the department's testing process. She is always open-minded to learning new skills and techniques in assistive technology and seeks to continue understanding other fields of study she is unfamiliar with.
"It is because of Gracie's dedication during this time period, the long days, evenings, and weekends, that finals at the Dart Center are executed with the highest level of integrity," said Christie Penzien, the Assistant Director of Communication Access, and one of Gracie's three nominators. "Gracie cares deeply about the accuracy of each exam and makes sure that all our students finish their semester strong. She is an invaluable team member that we are grateful to have working with our department."
Congratulations again to Gracie on being awarded the Department of Student Affairs June 2023 Golden Paw Employee of the Month.