DSA News
June 29, 2023
In a remarkable achievement, the University of Houston (UH) Division of Student Affairs was recently presented with the Bronze Award for their outstanding 2021-2022 Annual Report. The prestigious accolade was bestowed upon them by the Public Relations Society Association (PRSA) Houston Chapter during the 38th Annual Excalibur Awards ceremony held on June 22, 2023.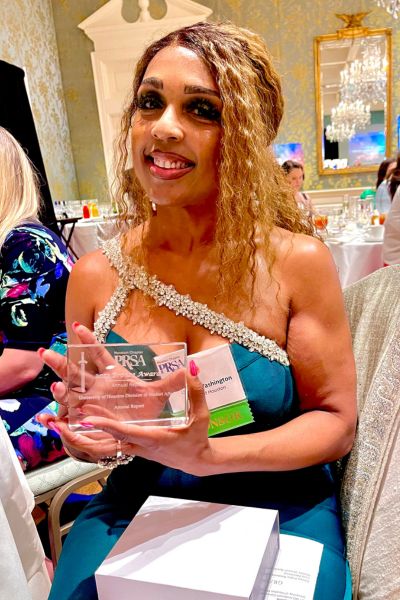 The Excalibur Awards gala, a highly anticipated event that recognizes exceptional contributions from public relations professionals to the community and their individual achievements, took place at the elegant Junior League of Houston located at 1811 Briar Oaks Lane. The evening commenced with a reception at 6 pm, followed by a dinner at 7 pm where the award winners were announced and celebrated.
This is the third win in a row and receiving the Bronze Award was a moment of immense pride for the UH Division of Student Affairs. Their commitment to excellence and dedication to providing exceptional services to students were evident in the comprehensive and visually appealing 2021-2022 Annual Report. The report highlighted the division's accomplishments and milestones throughout the fiscal year, displaying the impact and importance of student-centered initiatives.
One notable aspect of the Annual Report was the inclusion of artwork created by talented UH students. The strategic use of these student-generated designs as background graphics added a unique and engaging visual element to the report. This integration of student artwork not only enhanced the aesthetic appeal and served as a testament to the university community's collaborative spirit and creative talent enhanced the aesthetic appeal but also served as a testament to the collaborative spirit and creative talent within the university community.
With over 15 articles encompassing a wide range of topics, the Annual Report effectively communicated the Division of Student Affairs' achievements and advancements. It presented compelling data points that highlighted the increased focus on student-centered initiatives and their positive impact on the UH student body.
The Bronze Award from PRSA Houston Chapter reaffirms the Division of Student Affairs' commitment to excellence in their work. This recognition serves as a testament to their unwavering dedication to enhancing the student experience and creating a supportive and inclusive campus environment.
Germaine Washington, director of marketing and communications for the Division of Student Affairs at UH, expressed her gratitude and pride in the division's accomplishment, stating, "Receiving the Bronze Award for our Annual Report is a tremendous honor. It reflects the hard work and dedication of our team in providing exceptional services and opportunities for our students. We are committed to continuous improvement and ensuring that our students have the best possible experience at the University of Houston."
The University of Houston continues to distinguish itself as a leading institution dedicated to the holistic development and success of its students. The UH Division of Student Affairs' Bronze Award for their 2021-2022 Annual Report at the 38th Excalibur Awards solidifies their reputation as a trailblazer in student services.