DSA News
August 30, 2023
Crystle was nominated by two Access Coordinators at the Justin Dart, Jr. Student Accessibility Center (JDSAC), Taylar Johnson and McKell Piedl. In their nominations, they remarked on Crystle's dedication to the Center and how she has always been a highly supportive motivator.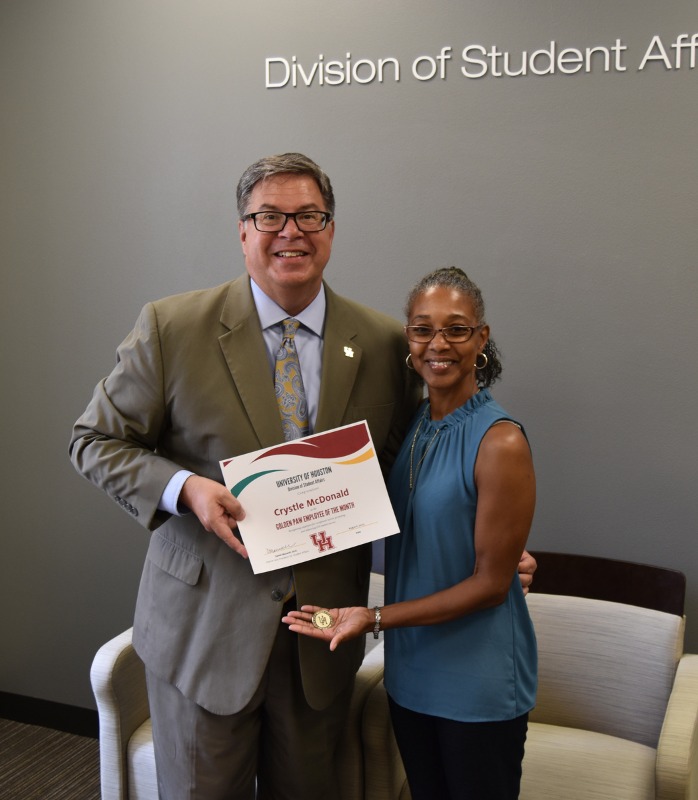 "She has shown true strength, transparency, dedication, and loyalty to all that have come and gone to the University of Houston," said Johnson.
Crystle's nominators emphasized her dedication and loyalty to the Student Accessibility Center but also defined a specific occurrence that stuck out to them, where her dedication went above and beyond.
During finals week of last Spring semester, Crystle spent her time providing assistance to every team in her unit. Crystal does not only assist one department within JDSAC; she supports every student whether they are on her caseload or not. She helped at the front desk answering phone calls, assisting the testing coordinators with administering exams, and aiding the access coordinators with their own caseloads. All of these go beyond her job description and demonstrate just how dedicated Crystle is to JDSAC.
"Crystle really helps things run smoothly at the Student Accessibility Center," Piedl said. "And she's great at offering her assistance to the UH Sugar Land campus, as well."
Congratulations again to Crystle on being awarded the Division of Student Affairs August 2023 Golden Paw Employee of the Month.