DSA News
May 11, 2023
The 38th Annual Campus Leaders Ceremony was hosted by the Center for Student Involvement (CSI) on April 28, 2023. This event was an opportunity to celebrate the accomplishments of students and student organizations that contribute to our campus community's overall success. During the ceremony, Leadership and Legacy Awards were presented to students and student-led organizations that exemplify high qualities of leadership, dedication, and all that it means to be a Houston Cougar.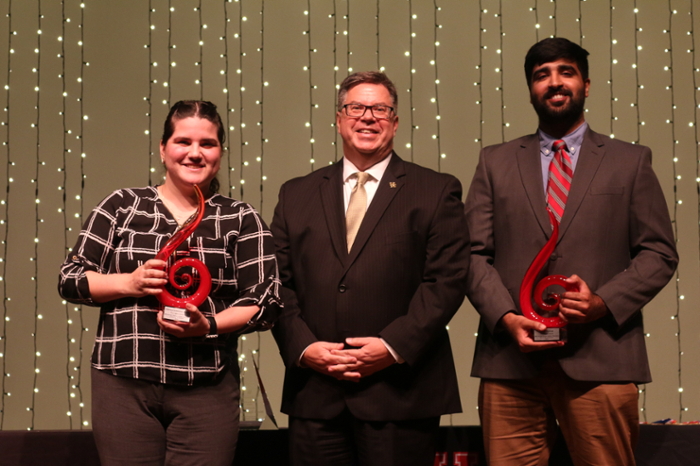 Katy Kaesebier, interim director of the Center for Student Involvement (CSI) stated, "The Leadership & Legacy Campus Leaders award ceremony hosted by CSI is an exciting opportunity for our team and campus partners to recognize the magnificent work of students, student organizations, and advisors. I am continually impressed by our students, their innovation, and their drive. All the nominees and award winners this year made such a positive impact on campus and contributed to making the University of Houston (UH) community more vibrant." There were five categories of awards presented at the ceremony which are the Distinguished Achievement Award, The Individual Achievement Award, The University Recognition Award, The Legacy Award, and the Organizational Award. Each of these awards are comprised of sub-categories that exhibit a wide range of services to the campus community.
The Distinguished Achievement Award has five sub-categories: Distinguished Freshman Leader, Distinguished Sophomore Leader, Distinguished Junior Leader, Distinguished Senior Leader, and Distinguished Graduate Student Leader. Each of these categories is awarded to students who have taken the initiative to get involved at UH, during different phases of their college career.
The Individual Excellence Award category is comprised of six categories: Community Impact Award, Inclusion & Advocacy Award, Outstanding Non-Traditional Student Leader, Rising Star Award, Unsung Hero Award, and Outstanding Advisor Award. These awards each have unique requirements for each category. The Community Impact Award acknowledges a student who has made a significant and positive impact on the UH and Houston communities through various methods that address a problem or improve a situation. The Inclusion and Advocacy Award honors the efforts of students who strive to promote an understanding of diversity and inclusion through their leadership.
The Outstanding Non-Traditional Student Leader Award is for a non-traditional student who is 25 years old or older and is dealing with circumstances that are different from the traditional student. The Rising Star Award is given to a first-time student leader who has done outstanding work in their first year of being involved with campus activities with motivation to expand their role. Our Unsung Hero Award is a student who puts their heart and soul into everything they do but goes unrecognized due to working "behind the scenes" or in other ways. The Outstanding Advisor Award recognizes an advisor who goes above and beyond by displaying a high rate of involvement within their organization.
The University Recognition Award category honors four types of student awards which include: Deans Award, Michael and Lisa Sachs Leadership Scholarship, Undergraduate Student of the Year Award, and Graduate Student of the Year Award. These awards are presented to students in various roles that exhibit an elevated level of service and commitment to their work.
The Legacy Award category recognizes a student whose influence, ideals, and activities throughout their college career have left a lasting, positive impression on the institution and raises the standard of excellence for future generations. The Legacy Award is the Campus Leaders Reception's highest honor.
The Organizational Award categories include Outstanding New Student Organization Award, Outstanding Program Award, Outstanding Sponsored Program Award, Outstanding Student Organization Award, and Outstanding University Sponsored Award. These awards are student-led organizations that promote impactful events on campus that contribute to the growth and development of the campus community.
On behalf of the Division of Student Affairs, we are proud to recognize the outstanding contributions of the various students who won in their various categories. We honor their exceptional work and excellence. Congratulations to the winners! View the complete list of award winners.