DSA News
May 18, 2023
The Division of Student Affairs is pleased to announce the promotion of Alicia Whitmire to the position of Administrative Assistant in the Office of the Vice Chancellor/Vice President. In her new role, Alicia will provide comprehensive administrative support to the Vice Chancellor/Vice President's staff and contribute to the efficient and effective operation of the office along with supporting several of the Vice Chancellor/Vice President's initiatives. Alicia will play a key role in supporting the division's mission to enhance the Cougar Experience and foster a vibrant campus community.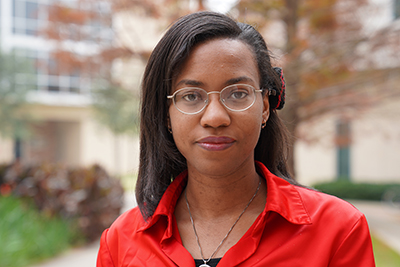 Alicia is a native Houstonian who joined the University of Houston in 2005 as a student, later working as a guest assistant for Student Housing and Residential Life (SHRL) as an undergraduate. During her collegiate years, Alicia worked multiple jobs in the SHRL department until she graduated and accepted a position as Financial Coordinator 1 in the Business Services department for the division, later being promoted to Financial Coordinator 2. As Financial Coordinator 2, she quickly established herself as a valuable asset with a high level of knowledge in housing. Her strong organizational abilities, attention to detail, and excellent interpersonal skills have consistently demonstrated her commitment to providing exceptional service to students, faculty, and staff.
Throughout her tenure at the university, Alicia has consistently demonstrated her ability to manage multiple responsibilities with grace and professionalism. Alicia is a member of the Southwestern Association of College and University Housing Officers (SWACUHO). SWACUHO's mission is to support a diverse, inclusive, and successful membership by providing opportunities to connect, engage, and grow individuals employed in the housing profession. She has also played a vital role in organizing major events for SHRL and SWACUHO and her dedication to student engagement and understanding of the university's culture makes her a natural fit for her new position. Alicia said, "I'm eager to learn more about how the division works and I hope to be of assistance to many people while in this position."
"I am excited to have Alicia join the Vice President's staff and I look forward to her contributions to our overall operations and support in managing several initiatives for the division," stated Dr. Daniel Maxwell, Interim Vice Chancellor/Vice President for Student Affairs.
Alicia holds a Bachelor of Arts in Psychology from the University of Houston and has shown a strong passion for supporting student success throughout her academic and professional journey. Her expertise and enthusiasm for the university's mission make her a valuable addition to the Office of the Vice Chancellor/Vice President. Please join us in congratulating Alicia Whitmire on her well-earned promotion. Her dedication and hard work exemplify the University of Houston's commitment to providing outstanding support and resources to our students and the campus community.