DSA News
September 13, 2022
The Division of Student Affairs (DSA) has chosen Skye Walker, program manager II, Information & Operations in the Student Centers, to be named the Golden Paw Employee of the Month winner for August 2022.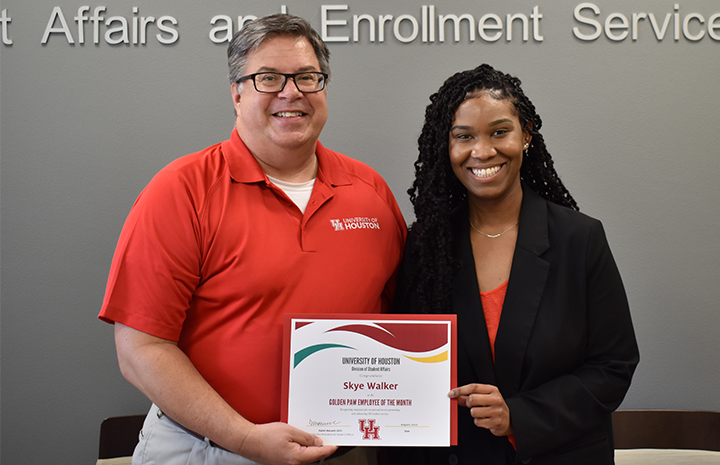 Skye said, "I'd like to express my gratitude for being chosen as a recipient of the Golden Paw Employee of the Month Award. Since joining the University of Houston (UH) DSA Team, I have been grateful to Eve and James for being so supportive, which gave me even more motivation to provide that same support to our students. Safety is something I care deeply about, and I want our students to remain safe, confidently knowing the UH Staff with the UH Police Department will continue to be there to serve. Thank you so much again for this award, I genuinely want to do an excellent job every day and I will continue to do my best for our students."
Skye was nominated for the Golden Paw Employee of the Month Award by Eve Esch, Executive Director of the Students Centers.
Walker is being recognized for alerting campus police about an individual who was asking to borrow students' phones and then using their phones to Cash App himself money. She immediately reported the offender to the police, and he was issued a trespass notice. However, Walker noticed that the same individual was back on campus grounds, and she once again alerted the police. The individual was arrested and due to her quick action, she potentially saved other students from being swindled.
Dr. Maxwell thanked Walker for her outstanding contribution to the Division of Student Affairs. The Golden Paw Employee of the Month award program honors DSA staff members who have performed outstanding work over the past month.