DSAES News
July 21, 2022
Varselles Cummings was awarded the Revis A. Cox Memorial Award at this year's Association of College Unions International (ACUI) annual conference in Chicago, Illinois. Cummings currently serves as the director for the Center for Diversity and Inclusion. Nominators stated he provides leadership and strategic vision of campus-wide programs and services to address the needs, strengths, and challenges of diverse student populations. This past year, Cummings worked on "A Time to be Heard. A Time to Learn," two virtual forums on racial justice, one for students and one for faculty and staff, hosted by the campus Center for Diversity and Inclusion.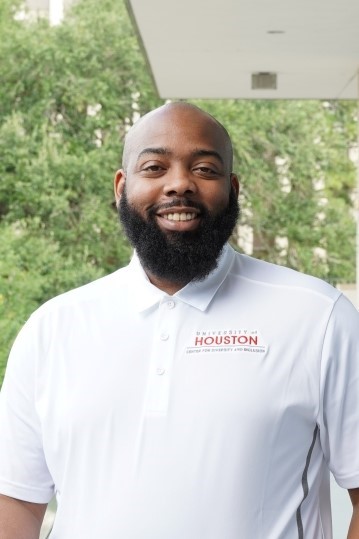 Keith T. Kowalka, assistant vice president, said "This award is centered around the positive leadership Varselles has demonstrated in his creativity and commitment to multicultural education at the University of Houston, and in the broader student affairs profession. He is an educator, an advocate for students, and a trusted colleague."
The Revis A. Cox Memorial Award honors the passion of professionals who contribute relentless support for multicultural education and social justice through their leadership on campus. The recipient will receive $400 to support their professional development at an ACUI event to continue to grow as a mentor, advisor, and advocate for student learning and inclusion.
"Varselles provides a critical voice on our campus especially in the areas of justice, equity, diversity and inclusion. I am excited he was recognized by ACUI with the Revis Cox Memorial Award for all of his achievements and successes for our UH community. I am thankful for his leadership of the Center for Diversity and Inclusion, and within the division and campus," stated Dr. Daniel Maxwell, Interim Vice President for Student Affairs and Enrollment Services.
Please join us in recognizing Cummings on his achievements.
---
More about ACUI
ACUI is the professional home to thousands of campus community builders around the world. Primarily focused on the work of those within the college unions and student activities field, the Association strives to provide an inclusive, welcoming community for all those who choose to belong.