DSAES News
July 21, 2022
A large gathering of student affairs and enrollment services professionals from across the University of Houston System came to the UH campus in May to attend the annual leadership conference, which returned to an in-person format this year after going virtual because of COVID-19.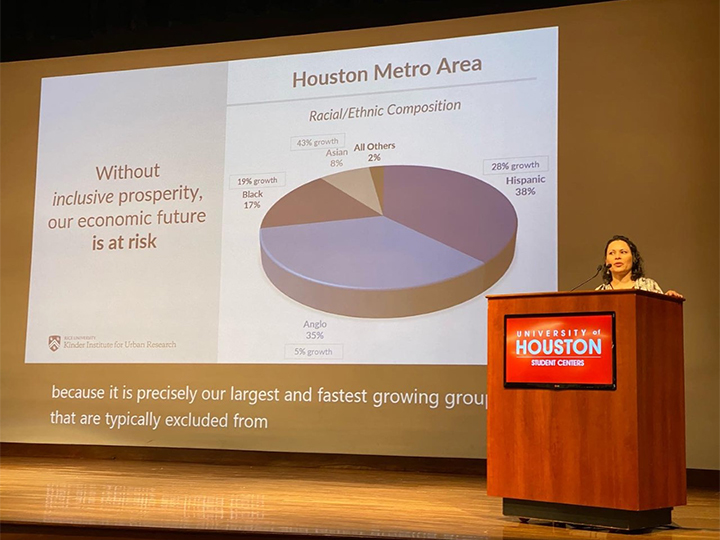 The 2022 University of Houston System Student Affairs and Enrollment Services Leadership Conference — Ready 4 What's Next — returned for its sixth year, drawing 210 attendees from UH, UH Clear Lake, UH Downtown and UH Victoria.
Dozens of experts from across all four campuses presented on best practices, collaboration and building bridges, new horizons and professional development topics.
"It was so exciting to have everyone back in person to learn from and enjoy their colleagues from across the UH Ssytem," said Mara Affre, UHS SAES Leadership Conference co-chair.
Dr. Ruth Lopez Turley, the new director of the Kinder Institute for Urban Research at Rice University, was the conference's keynote speaker, discussing what's next for Houston's education pipeline. The conference also featured a panel of students from across all four campuses called UHS Talks: Student Voices. These students shared their experiences, providinggreat insights on how to best serve our students: Alyssa Greene, a freshman from UH; Alexis Staropoli, a junior from UH Clear Lake; Irvin Solano, a senior from UH Downtown; and Trisanya Dennie, a sophomore from UH Victoria.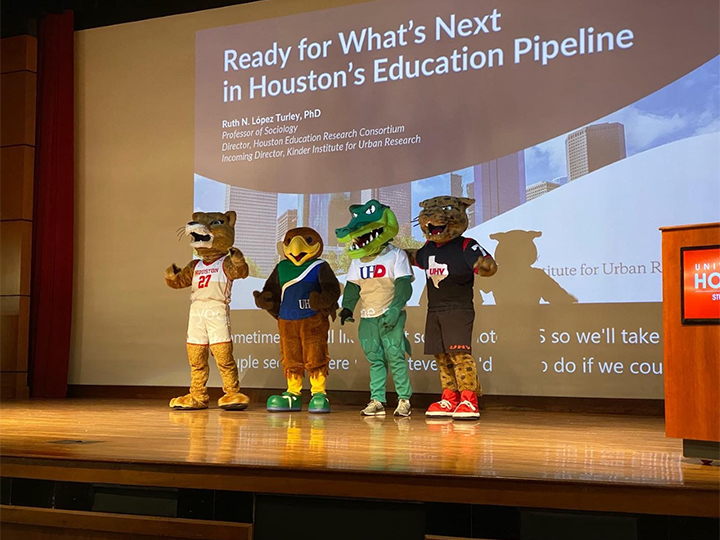 Held on May 20 in the UH Student Centers, UHS SAES Leadership Conference Co-Chair Don Yackley said the entire day was a success. "It was wonderful to come together, share best practices, and engage in fellowship with colleagues," he said.
In addition to Affre and Yackley, the conference was organized and hosted by the 2022 committee:
Dr. Karla Hernandez DeCuir, Assistant Provost for Distance Learning, University of Houston–Victoria
Dr. Yvonne Hernandez Friedman, Assistant Vice President for Student Engagement, University of Houston–Clear Lake
Brandon Lee, Director of Residence Life, University of Houston—Victoria
Sandi Martin, Director of Marketing and Communications, Division of Student Affairs & Enrollment Services, University of Houston
Dr. Courtney McElroy, Assistant Director of Residence Life, Student Housing & Residential Life, University of Houston
Jarell Miller, Residence Life Coordinator, Student Housing & Residential Life, University of Houston
Kyle Perkins, Program Manager, Campus Visits, University of Houston
Dr. Scott Radimer, Director of Assessment and Planning, Division of Student Affairs & Enrollment Services, University of Houston
Kristina Raymond, Director, Transfer Relations, University of Houston–Downtown
Rhonda Scherer, Associate Director, Sports & Fitness, University of Houston—Downtown
Kara Hadley-Shakya, Executive Director of Recruitment & Admissions, University of Houston — Clear Lake