DSA News
August 16, 2022
In early November 2021, the University of Houston (UH) staff, faculty, alumni, and graduate students formalized the Houston chapter of TACHE. The chapter was created as an affinity space for emerging leaders in the Houston Chicano community who are focused on career development. The TACHE organization's leaders subsequently developed the Career and Leadership Development Institute (CLDI) which selected 12 outstanding individuals to join their 2022 cohort. The CLDI offered participants an opportunity to build personal relationships with other industry experts. TACHE is also dedicated to assisting Chicanos in the promotion of their history and culture for educational and public information purposes.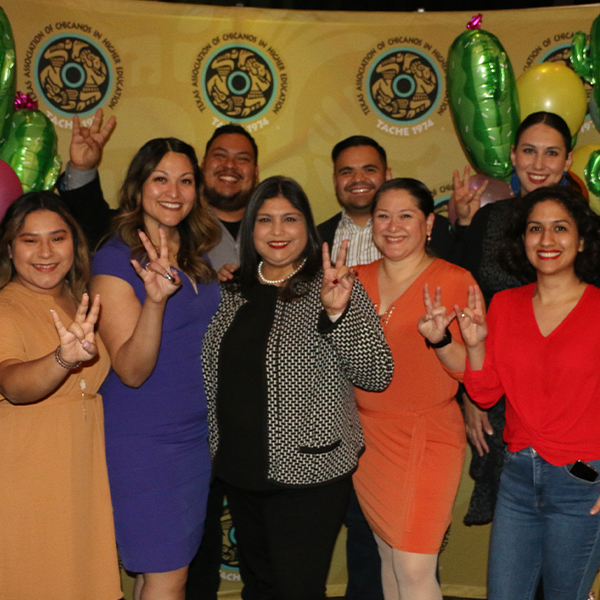 TACHE's mission is committed to helping improve educational and employment opportunities for Chicanos in higher education. In addition, their purpose is to provide state, regional, and local forums for Chicanos to have an opportunity to discuss relatable issues and to collaborate with institutions of higher learning to create workable solutions for these issues. As educational advocates, TACHE's goals are to articulate Chicano's problems, needs, and issues, while providing networking opportunities to actively engage constituents. TACHE is confident that building networks to help change laws and policies that are detrimental to their communities is critical to their success. The organization maintains that establishing effective institutional programs and communication channels to recruit and retain Chicano students, faculty, and administrators in higher education is pivotal to improving their career opportunities. "As an advocate for UH's renewal of the TACHE Institution Membership in 2019, I remain a proud supporter of the TACHE organization and its dedicated leadership as they continue to advance TACHE's mission", said Monica Thompson, Interim Assistant Vice President of Student Affairs.
The Houston chapter of TACHE has made so many accomplishments since its inception. The brief time the chapter was formed in November 2021, it quickly gained approval by March 2022. By the Spring of 2022, the chapter had already held 3 monthly general meetings and an end-of-the-semester celebration. Also, in the summer of that same year, then conference chair Adalia Espinosa hosted a "Summer Meet and Retreat" at the University of Houston as a planning meeting to host the upcoming 2023 Annual Conference. This resulted in 10 members of the University of Houston's team attending the Gulf Coast Region Summer Professional Development Day at Lonestar College in Kingwood. Espinosa presented "Vulnerable Leadership" Unpacking the Inner Battle for Latinx Higher Educational Professionals and Emerging Leaders to over 100 participants.
President-Elect, Adalia Espinosa (she/her) said, "It is an honor to represent the University of Houston (UH) at a TACHE organization. TACHE has made a huge mark in the state of Texas by providing Latinx-related professional development, advocacy, and opportunities. Now I plan to continue the progressive work we have started, and I am extremely excited to host it in the city of Houston." She also stated, "Maria Honey was also one of the many staff members who played an integral role in launching the Houston chapter." Thompson states, "Adalia is a brilliant talent, and I am grateful for Adalia's leadership roles within TACHE. I also admire her passion to serve as a mentor to our graduate students and young professionals."
The chapter elected Espinosa as TACHE President-Elect and 2023 Conference Chair for the TACHE state association. Esmeralda Valdez was named CLDI Director after her successful management of the Leadership Institute. Other members, Lladira Aguilar and Brian Moreno were selected as fellows for the 2022 CLDI Leadership Institute in Fort Worth. Thompson stated, "In addition to the educational and career development opportunities, TACHE offers leadership opportunities to help its members sharpen their skills which also compliments their work to lift Latinx-related topics and advocacy. UH is designated as a Hispanic Serving Institution (HSI) and has a TACHE institutional-level membership. It demonstrates UH's commitment to serving our Hispanic student population and supporting our faculty and staff."
The University of Houston, Division of Student Affairs (DSA) sponsored the TACHE organization's 2022 conference at the gold level. The DSA is also committed to helping TACHE reach students seeking to improve their potential in both their educational and career goals. The DSA's University Career Services (UCS) staff members presented at the TACHE conference which included Cynthia Olmedo, Donah Justice, and Dawnelle Prince, and their topic focused on "Career Guidance for Immigrant College Students." This topic coincides with the organization's commitment to helping undocumented college students with career guidance. The presentation also gave detailed insights on best practices, testimonials, and career guidance for higher education advocates who support helping undocumented individuals at their respective campuses.