DSAES News
July 21, 2022
Suva Gomes, assistive technology coordinator in the Dart Student Accessibility Center, has been named the Golden Paw Employee of the Month winner for June 2022.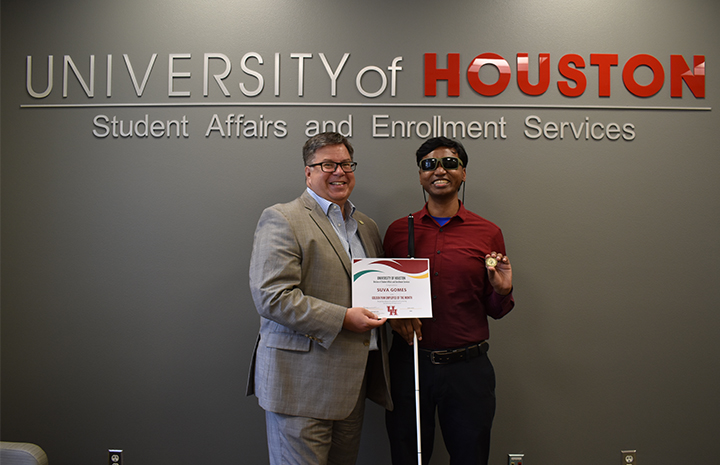 Gomes said he is thrilled to have been named the newest Golden Paw winner. "I'm glad to be here at the Justin Dart Jr. Student Accessibility Center and to work every day alongside my colleagues as an assistive technology coordinator," he said. "My role at the Student Accessibility Center allows me to help guide our students to various resources and answer their questions about assistive technology."
Gomes, who is also an alumnus of UH, was nominated for his passion in helping students at UH and for expanding accessibility access to everyone on campus. Gomes has been tacking improving accessibility for students, and notably has created an innovative systemwide process that makes certain assistive technology available to every UH student, faculty and staff member for free. He has also formed partnerships across campus, and he is providing regular training and guidance to help improve campus accessibility.
Daniel Maxwell, interim vice president for student affairs and enrollment services, said he's thrilled to present Gomes with the Golden Paw award. "Suva has proven himself to be invaluable to our Division with his passion for helping our students," Maxwell said. "His enthusiasm for improving accessibility is unmatched."
Gomes said he appreciates the thoughtful nomination by Kyle Mutz, the director of the Dart Student Accessibility Center, and for the recognition by Maxwell.
The Golden Paw Employee of the Month award program honors DSAES staff members who have performed outstanding work over the past month.