DSA News
July 28, 2022
Priyanka Raut (she/her) has been named the new interim associate director of University Career Services (UCS), taking over the day-to-day oversight from Dr. Monica Thompson, who is serving as interim assistant vice president for student affairs.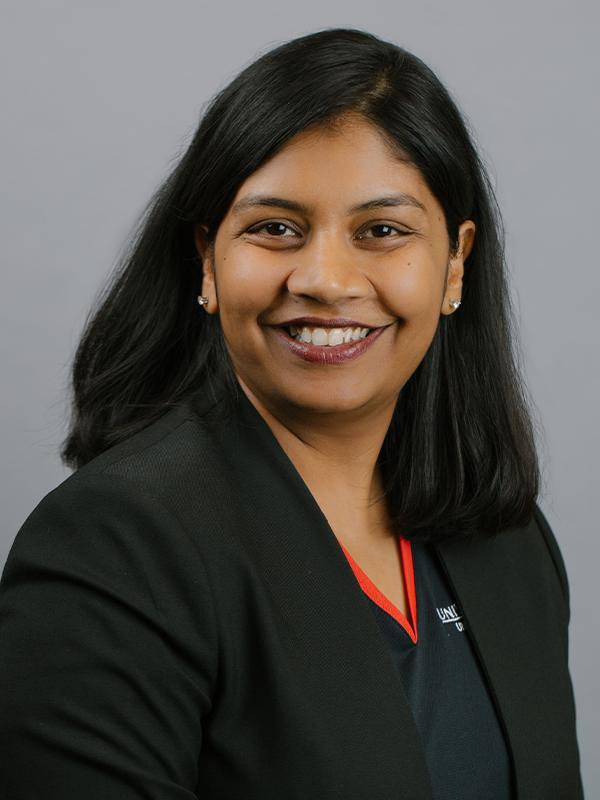 Raut, who has been a career counselor at the University of Houston (UH) for over 10 years and is currently the assistant director of University Career Services with oversight of both UH Sugar Land and Katy instructional sites will continue to serve in this role while concurrently serving as interim associate director managing the daily operations at UCS and supervising a team of career development specialists. Thompson will continue as the executive director of UCS and will manage her direct reports which include Caitlin Deis, Assistant Director of Employer Development and Rosalba Sanchez, Administrative Assistant.
Dr. Monica Thompson, Interim Assistant Vice President of the Division of Student Affairs (DSA) and Executive Director of University Career Services, named Raut to the role effective July 1, 2022.
Thompson stated, "I am excited Priyanka will oversee the career development specialists, source talent to help me build a new career development specialist team, and lead the roll out of our new career cluster model during a time when students are seeking more career options."
"During Priyanka's 11-year tenure, she has enthusiastically led uncharted initiatives to advance career services at UH, UH Sugar Land, and UH Katy including using utilization data to launch UCS Virtual Chats (Pre-COVID 19) to support our commuter student population. As a result of Priyanka's exemplary efforts to advance career services, Priyanka was promoted to assistant director of Career Services at UH at Sugar Land in 2019. In her current leadership role at the Sugar Land and Katy sites, she also supports and mentors the career development specialists' team at UH. Serving as interim associate director is a natural next step for Priyanka. With Priyanka's experience supporting the UCS staff and executing new initiatives, I am confident this next step will be a smooth transition for UCS," said Monica Thompson, Interim Assistant Vice President (DSA), and Executive Director of University Career Services.
Raut brings a wealth of knowledge to her new role with over 12 years of higher education experience. She led the effort to expand University Career Services to the UH Sugar Land and Katy instructional sites. Raut provided career guidance to both students and alumni while fostering collaborative relationships with Fort Bend County employers. She also facilitated relationships with faculty members at UH and was awarded a Group Teaching Excellence Award in 2020. This award was for her work with the College of Nursing's Cougar Nurse Launch to a professional practice model.
"My interim associate director position comes during a very exciting time for University Career Services as we plan to roll out our new model for offering career services using the career cluster model that encourages students to think beyond their major as they plan their career path," Raut said. "I am excited to lead a team of 5 career development specialists to help our students be career ready and connect with employers through experiential education and networking opportunities".
Raut's expertise in career counseling includes major options, career exploration, resume review, cover letter assistance, personal statement development, job search guidance, internship assistance, interview preparation, personal branding, and career transition assistance. She has also taught career courses and is certified to administer the "Strong Interest Inventory". Raut has exceptional skills in coaching, relationship-building, cross-collaboration, assessment, and planning. She leads the departmental assessment work which consists of the development, implementation, and assessment of survey data, coordination of departmental reports, and co-development of strategic assessment plans. Raut has served in leadership positions at the National Career Development Association's (NCDA) international student and assessment committees for the Division of Student Affairs at UH. Due to her significant contributions, she received a DSAES Outstanding Committee Contribution Award in 2016. Raut has two graduate degrees: one in Clinical Psychology from the University of Pune in India and one from the University of Kansas in Counseling Psychology.