DSAES News
July 21, 2022
The pandemic delayed many things over the past two years, including a much-deserved reception honoring former Associate Vice President for Student Affairs and Dean of Students William Munson. Munson retired in 2020 after 35 years with the University of Houston.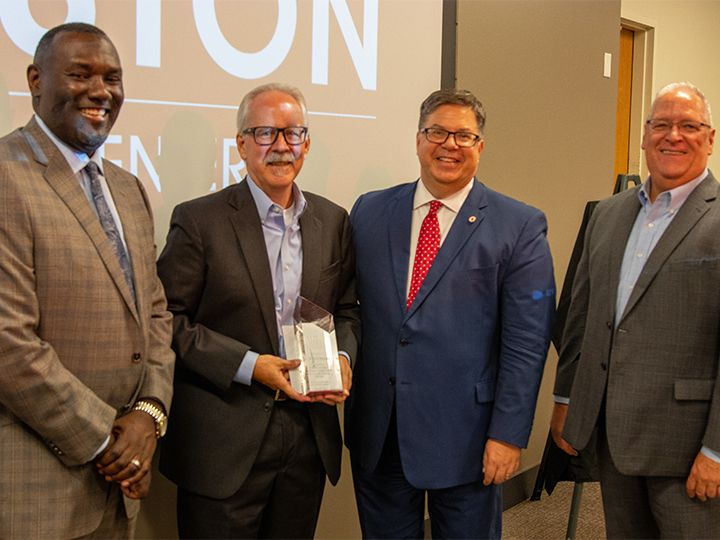 Dozens of well-wishers and former colleagues attended a retirement celebration held in Munson's honor on May 23 to finally say farewell for the beloved former dean of students.
"I sincerely appreciate the efforts of the Division of Student Affairs and Enrollment Services team for providing me with the opportunity to return to campus and thank those friends and colleagues who have supported me during my 35 years of service to UH," Munson said. "The reception allowed me to formally close my professional career at the University. However, I will always feel connected to the UH campus and community."
When Munson retired from UH, he had been overseeing the Dean of Students Office, Children's Learning Center, Veterans Services, Women and Gender Resource Center, Student Conduct, Student Advocacy Services, UH Student Handbook, Parent and Family Programs, Commuter Student Services, and the Student Fee Advisory Committee.
"It was an honor to serve alongside Willie for the last eight years," said interim Vice President for Student Affairs and Enrollment Services Daniel Maxwell. "I appreciated his institutional knowledge and his compassion for his staff. He witnessed the growth and prosperity of the University and of the Division in his almost four decades serving and supporting students. I wish Willie and his wife, Wanda, a wonderful retirement knowing they left the University of Houston well cared for."
Munson first joined the University of Houston in 1985 as the director of campus activities, becoming dean of students in 1988, a position he held throughout a reorganization of UH's leadership over the next two decades. Munson became associate vice president in 2002. Munson has both bachelor's and master's degrees from Iowa State University, and a Ph.D. from the University of Nebraska-Lincoln.
He was succeeded by Donell Young. "Willie is a valued colleague, whose unwavering devotion to the University of Houston community exemplifies strong moral fiber and character," Young said. "Since I arrived on campus Willie has been available to answer any questions no matter how big or small. I wish Willie and his wife Wanda a wonderful retirement, health, happiness and success on their new journey in life."
Photos of the retirement reception are available for viewing online.