DSA News
July 28, 2022
Michael Crook (He/Him) has been named interim director for the Center for Diversity and Inclusion (CDI) following the departure of current director Varselles Cummings. Effective July 1, Crook will lead the Center in fostering an inclusive community for university students and the UH community.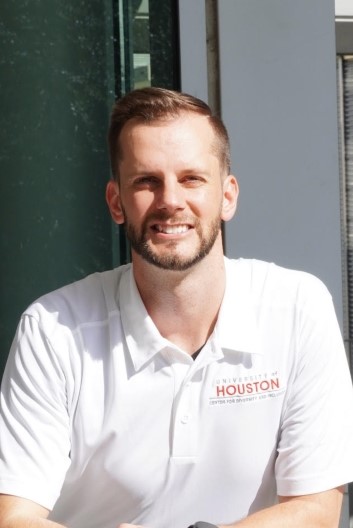 "This is such a special moment," Crook said. "One of the most rewarding opportunities in my career was serving on the team that opened this center back in 2014. And now, to be named the interim director is such an honor. I am grateful for the trust Assistant Vice President for Student Affairs Keith Kowalka and interim Vice President for Student Affairs Dr. Daniel Maxwell have in me to take on this role. I am committed to helping the department smoothly transition into the fall semester and will work my hardest to advance and elevate the valuable DEI work being done in the division and across campus."
Crook has 14 years of experience in higher education and has worked in areas of admissions, residence life, multicultural affairs and campus activities. He served as a member of the inaugural staff for CDI and is currently their assistant director, where he serves as part of the Center's leadership team, is responsible for the daily operations of the Center and student employees, oversees assessment initiatives, develops and manages academic partnerships, and supports all diversity education programs and initiatives that come from the Center. He is an active member of the DSA Diversity, Equity, and Inclusion Committee's education and improving work environment subcommittees, and recently completed the Diversity, Equity and Inclusion Certificate Program with Cornell University. He is certified as a qualified administrator of the Intercultural Development Inventory (IDI) and is a Gallup Certified Strengths Coach. He received a Master of Arts in Student Affairs Administration, a Graduate Certificate for Teaching and Learning from Michigan State University in 2012, and a Bachelor of Arts in Speech and Communication with a minor in Business Administration from Colorado State University in 2008.
For the past six months, Crook has served at the interim co-director of the LGBTQ Resource Center where he provided leadership and support for the department, enhanced educational trainings and awareness programs for students, staff, and faculty, oversaw the annual scholarship processes, and also maintained collaborative partnerships; specifically connecting LGBTQ students to UH resources and support programs.
"Michael Crook brings nearly 13 years in the student affairs profession and nearly eight years of UH experience in the Center for Student Involvement, and two roles within the Center for Diversity and Inclusion, most recently as assistant director," said Kowalka. "I'm grateful to have such a high-caliber professional with a diverse background in program and education planning, supporting the needs of our diverse student population, and leading with a student-centered approach. Michael will do an amazing job as interim director."