DSAES News
July 21, 2022
The LGBTQ Resource Center is proud to announce that Juliann Losey, the gender and sexuality education program manager, is a finalist for the Houston Pride Grand Marshal in the nonbinary category.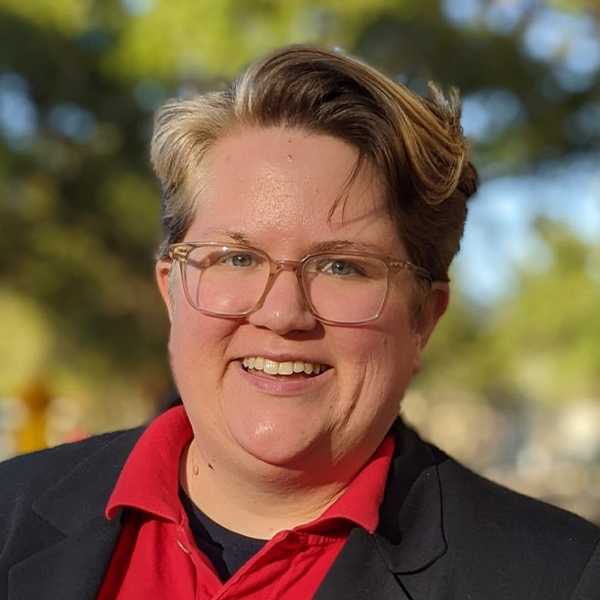 Being named a Grand Marshal of the Houston LGBT+ Pride Celebration is one of the highest honors bestowed by the Houston's LGBT community. Those are who are nominated have made significant achievements for LGBT rights, as well as considerable contributions to the LBGT community. Whoever is named the Grand Marshal will perform ceremonial duties, lead the Pride Parade and serve as Pride ambassadors throughout the year.
"I am so honored to be nominated to be a Grand Marshal," Losey said. "As a trans/non-binary person from the South, it has sometimes felt a little difficult to find my place — to feel like I belong. I am so moved, grateful, and delighted by the support from the community and my friends in this process."
The community is invited to vote for who they believe should be the Grand Marshal for this year's Houston LGBT Pride Celebration.
Losey said they are looking forward to using this opportunity to build stronger connections with Houston and Texas.
"I plan to continue looking for ways to further serve LGBTQ folks in the South," Losey said. "At the moment, I have a t-shirt fundraiser that will raise money toward my candidacy and the Pride Houston Scholarship fund that people can check out on my campaign pages on social media."
You can support Losey's campaign on Instagram and Facebook.
Here are some things to know about how the campaign works:
Voting is done through the Pride Houston website.
You may only cast one ballot per category.
Votes require a Houston Zip code.
Any donations go to the Pride Houston Scholarship Fund and a candidate's overall score when submitted in their name.
"The LGBTQ Resource Center team is very proud and excited for Juliann to be acknowledged by the local community for their outstanding work on campus," Jamie Gonzales, interim co-director for the LGBTQ Resource Center said. "Being one of only three nominees in the nonbinary category in a city as big and active as Houston is truly an honor!"
Losey has also been featured on an episode of the Coogcast Podcast and did an Interview with Outsmart last year.