DSA News
September 13, 2022
The Division for Student Affairs (DSA) recognizes Toria Jones, sexual misconduct support services manager (SMSS) in the Women and Gender Resource Center (WGRC), who has been named the Golden Paw Employee of the Month winner for July 2022.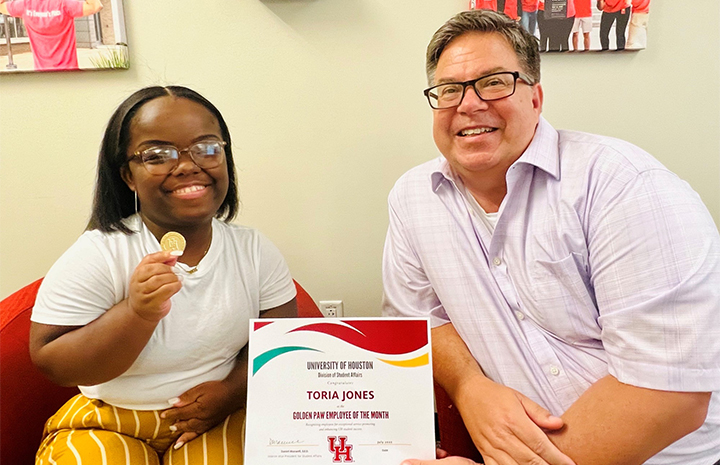 Dr. Maxwell congratulated Toria for winning the Golden Paw Employee of the Month Award and for her outstanding work in the Women and Gender Resource Center.
Toria was nominated by a fellow Student Affairs colleague.
Toria was chosen for creating and implementing a new system to track SMSS cases, including imputing previous semesters' information for seamless data tracking. She was also commended for helping the interim director transition into her new role and for all her tremendous help during staffing turnovers.
Jones began her position as the Sexual Misconduct Support Services Manager in December 2021. Before this role, she worked as a Sexual Assault Services Supervisor for the Family Violence Center at Northwest Assistance Ministries. During her employment with the Northwest Assistance Ministries, she provided support and accompaniment to both domestic and sexual violence survivors in our community.
Jones received her bachelor's degree in Sociology from Sam Houston State University and plans to pursue her Master's in Sociology to expand her knowledge and skills. Her goal in working for the WGRC is to help create more accessible opportunities for the University of Houston (UH) community who are affected by sexual misconduct.
Jones enjoys spending time with family and friends, eating great food, making others laugh with improv, and using her voice to reach people through her podcast. "Just a Little Pod." Jones hosts the podcast with her best friend where they discuss disability issues with the hope of raising awareness and uplifting disabled voices.
The Golden Paw Employee of the Month award program honors DSA staff members who have performed outstanding work over the past month.