DSA News
October 14, 2022
The Division of Student Affairs (DSA) has chosen Reta Johnson, assistant teacher of the Yellow Room in the Children's Learning Centers (CLC), to be named the Golden Paw Employee of the Month winner for September 2022.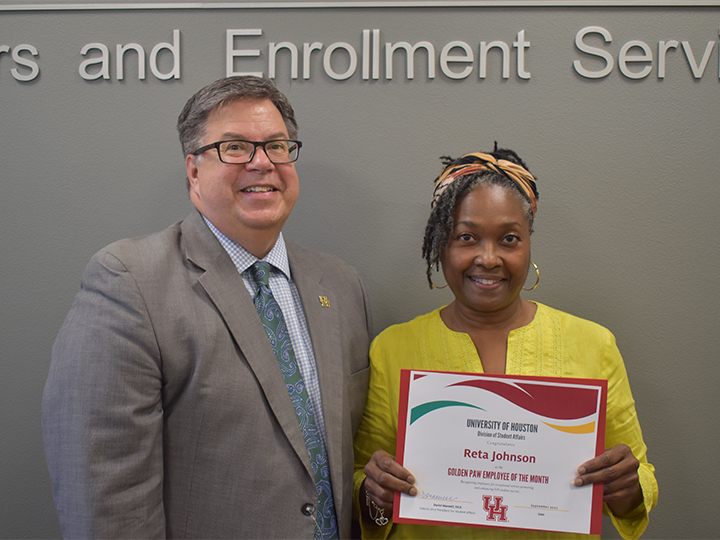 Reta said, "Thank you! What a nice surprise to hear that I was nominated by Rachel O'Mara. It is also nice to learn that I won the Golden Paw of the Month Award. Teaching children about where their food comes from and seeing their faces when the garden produces is a joy to me."
Reta was nominated for the Golden Paw Employee of the Month Award by Rachel O'mara, Interim Director of Campus Recreation and Senior Associate Director of the Department of Campus Recreation. O'mara stated, "What wonderful news that Ms. Reta won--it is so well deserved!"
Johnson is being recognized for being an innovator in her role as an assistant teacher in the Yellow Room in the CLC by sharing her talents as a Gardner. She engaged the children to tend to the fruits, vegetables, and flowers in the open spaces at the CLC. Reta also helped them become a part of the process by helping them learn to plant seeds, water them, document their progress, and watch them grow. Reta's contribution has helped make the CLC grounds look amazing, and it serves a dual purpose of educating the children. Reta also involved the parents by sending pictures and communications about the progress of the garden.
Congratulations to Reta on the amazing work she is doing! Dr. Maxwell thanked Reta for her exceptional contribution to the Division of Student Affairs, honored her with a certificate of appreciation, and took her to lunch. The Golden Paw Employee of the Month award program honors DSA staff members who have performed outstanding work over the past month.