DSAES News
July 21, 2022
Six staff members across several departments in the Division of Student Affairs and Enrollment Services were honored in May with the Golden Paw Employee of the Month Award.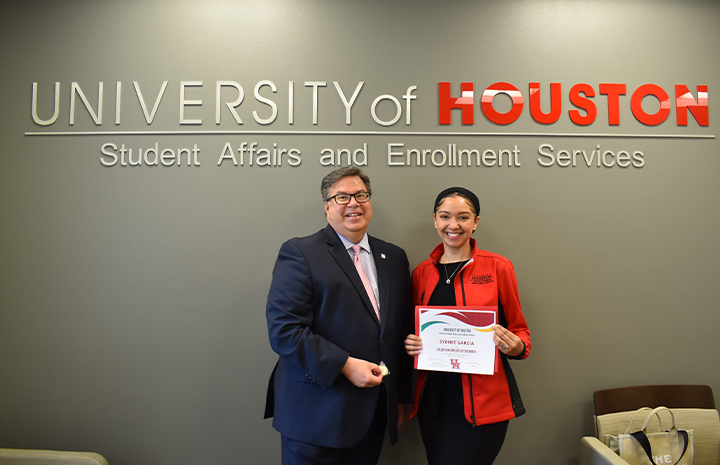 These staff members were honored for their exceptional work and commitment to fulfilling the Division's mission of student success.
"I am thrilled to recognize these outstanding Division staff members," said Dr. Daniel Maxwell, interim vice president for student affairs and enrollment services. "Each of them was nominated by someone who works with them who recognized that they were performing exemplary work that goes above and beyond their job duties. I commend them for their outstanding service to not only the Division, but to the University of Houston and our students."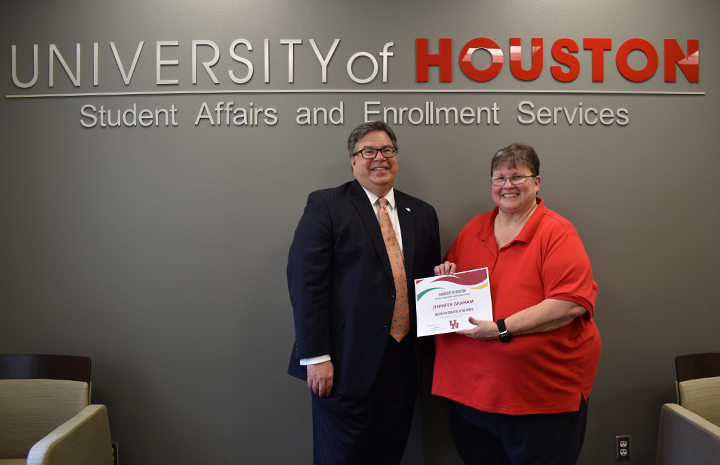 The Golden Paw Employee of the Month Award program has been recently restructured, and the awards committee awarded multiple winners this month from previous pending nominations. Anyone in the Division can nominate anyone else who works in DSAES for the honor.
The winners for May 2022 are:
Sydnee Garcia, manager of diversity programming in the Center for Diversity and Inclusion. In the nomination, Garcia's colleague called her a "complete Cougar Rockstar" who "brings positive energy every day." Garcia's nominator also noted that she would pitch in even when it wasn't one of her job duties, and that she provided insightful feedback and suggestions to improve CDI's operations.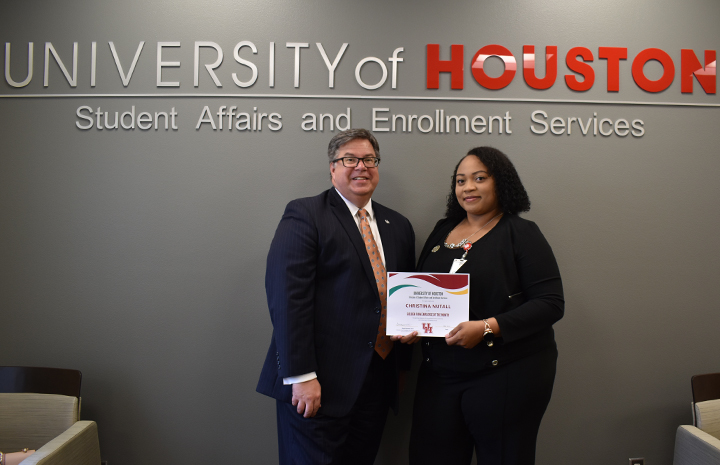 Jennifer Graham, clinic operations manager in the Student Health Center. In the nomination, Graham was commended for her outstanding work in setting up the COVID-19 vaccine clinics UH held to help protect the Coog community from the coronavirus, including creating an entire system from scratch that allowed these clinics to run smoothly and efficiently. "I am fortunate to be part of a dedicated team of Student Health Center staff members who are committed to the students of the University of Houston and their health care needs," she said.
Christina Nutall, financial aid coordinator in Scholarships and Financial Aid. Nutall's nomination commended her for administering more than $1 million in endowed scholarships at a time when the Scholarships and Financial Aid office was very understaffed. Her colleague wrote that her "current efforts to resolve and streamline the endowed scholarship process came at a critical time during the pandemic."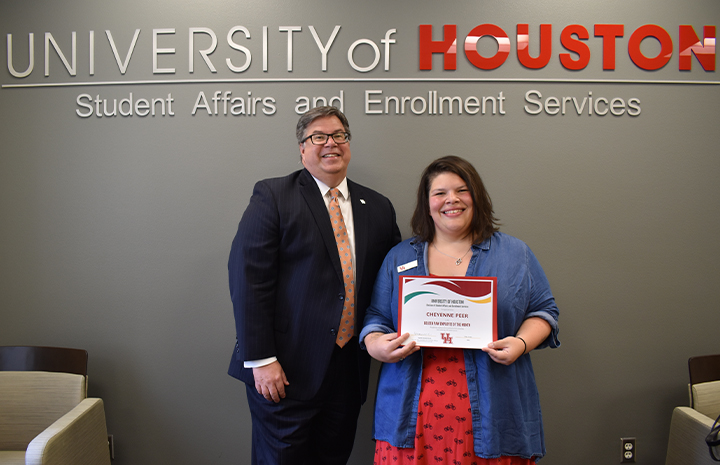 Cheyenne Peer, office coordinator in the LGBTQ Resource Center. Peer was commended for creating a system for students who had signed up for the LGBTQ Resource Center's "Fun with Makeup" workshop, supporting the students who had signed up, and for guiding student leaders in accommodating those who participated. "I enjoy working toward the goal of providing inclusivity and kindness to our visitors and program participants in and around the LGBTQ Resource Center & Women and Gender Resource Center in the same way that I have been validated and affirmed since starting my journey here," she said.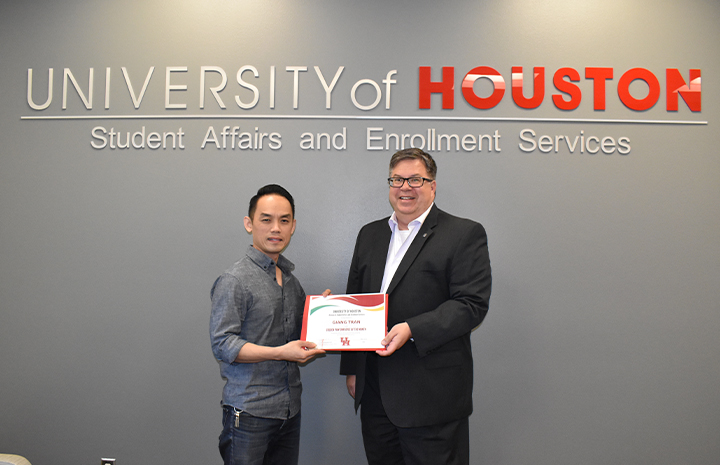 Giang Tran, user services specialist II in DSAES IT Services. Tran's colleague called him an "unsung hero" for his valuable efforts in supporting staff who unexpectedly had to begin working remotely when the pandemic first started. In his nomination, he was commended for his assistance in resolving IT problems and for communicating with staff having technological issues.
Andrea Trevino, program manager in Student Housing and Residential Life. In the nomination, Trevino was commended for her exceptional role during the ice storms in Houston, when she volunteered to come in and even stayed overnight to help UH Campus Dining and Student Housing and Residential Life make sure students were fed during a very troubling weather event. She was also commended for rallying student employees living on campus to help and helping out even when lost water pressure led to "unsavory" tasks.