DSA News
August 24, 2022
The UH Division of Student Affairs (DSA), Children's Learning Centers (CLC) have been reaccredited for another 4 years through October 2026. This accreditation is an effort to ensure that the Children's Learning Centers continue to maintain high-quality learning experiences for young children. The CLC undergoes voluntary self-study and external review processes to maintain compliance and high ethical standards. CLC is accredited by both the National Association for the Education of Young Children (NAEYC) and Cognia; it is also a participant in the Texas School Ready (TSR) program and is rated 4 stars by the Texas Rising Star (TRS) for its work.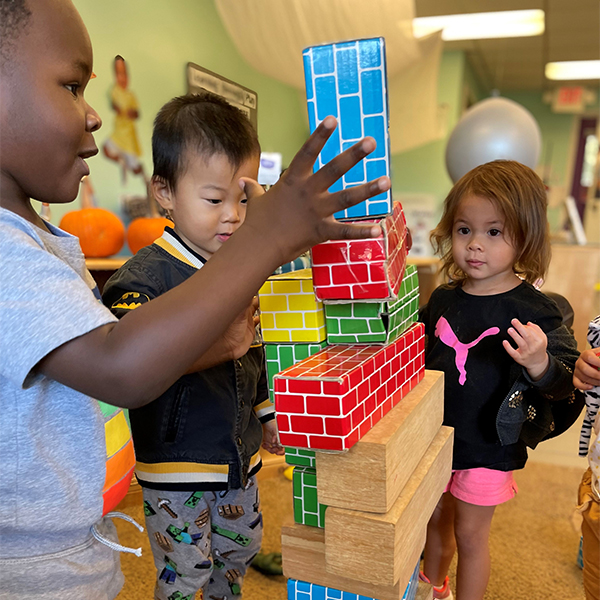 At CLC, the staff consists of dedicated teachers who work every day to make sure each child gets positive learning experiences that they need to grow up happy and confident. Each classroom has a full-time Teacher, an Associate or Assistant Teacher, and part-time UH Student Assistants. All teachers are professionally trained through formal coursework, specialized professional development classes, and have experience in the early childhood classroom. They make a basic commitment to align themselves with the profession's responsibilities as outlined in the NAEYC Code of Ethical Conduct. They also maintain First Aid and CPR certifications that are designed for all ages. Additionally, staff members participate in an annual professional development plan to ensure that their early childhood expertise is maintained.
The student staff attends an initial orientation before they begin working with the children which introduces them to fundamental aspects of the program's operation and regulatory requirements. They also receive follow-up training that expands on the initial orientation which promotes an understanding of NAEYC Accreditation Program Standards. As the CLC student workers gain classroom experience, they increase their knowledge of the early childhood profession and developmentally appropriate practices. In addition, UH CLC offers student workers a development program that encourages them to build their professional skills and work habits in preparation for opportunities to advance their careers.
Jennifer Skopal is essential to the accreditation process. She was selected as Director for the UH Children's Learning Centers (CLC) in June 2013. In her role, Jennifer directs the daily operations, activities, and instruction to provide a safe and healthy environment for the children. Skopal also maintains administrative compliance with state licensing and national accreditation criteria while engaging with staff, children, and parents to promote the goals and objectives of the program. She ensures an effective organizational communication strategy, evaluation, and accountability while managing grant proposals. She also prepares and submits annual reports for CCAMPIS, SFAC (Student Fees Advisory Committee), NAEYC, and Cognia. Skopal promotes professional development for staff, manages the hiring, and evaluation of all staff. Skopal stated, "There is a lot of time and effort put into maintaining a high-quality program. Our teachers and staff work diligently throughout the year and especially during the months leading up to reaccreditation. While the process of preparing the classroom/program portfolios and assessing curriculum/classroom environments is tedious, it provides us with validation that what we do daily enhances the lives of young children and is making a difference. We are thrilled that NAEYC recognizes us as a quality program!"
The path to accreditation is a four-step process that involves self-reflection and quality improvement to meet and maintain accreditation over five years. The entire CLC staff participates in the process including directors, teachers, and families. All programs are required to meet standards and are grouped into 10 areas: relationships with children, curriculum, teaching approaches, child assessment, nutrition and health, staff qualifications, relationship with children's families, relationship with the community, physical environment, and program leadership and management. Associate Vice President for Student Affairs and Dean of Students, "Donell Young, J.D., states, "I cannot thank Jennifer and the CLC staff enough for their dedication to UH faculty, staff, and students. The CLC staff is steadfast in ensuring that children's needs are met in a stimulating and developmentally appropriate environment that is joyful, safe, warm, and secure. I am thrilled that the CLC was reaccredited by both the National Association for the Education of Young Children (NAEYC) and Cognia. CLC is truly a pillar to the University of Houston community."
According to their website, the NAEYC accreditation process values the role of higher education in advancing the early childhood education profession. Through its higher education system, NAEYC provides a mechanism for early childhood associate, baccalaureate, and master's degree programs to demonstrate their commitment to high-quality professional preparation.
NAEYC also previously partnered with the Council for the Accreditation of Educator Preparation (CAEP) to grant NAEYC National Recognition to baccalaureate and graduate degree programs that demonstrated their candidate assessments aligned with the NAEYC 2010 Initial and Advanced Standards for Early Childhood Professional Preparation. The NAEYC was also recognized by the Council for Higher Education Accreditation (CHEA) which conveys that an accreditor has demonstrated evidence of meeting the standards of quality developed by CHEA. This also serves as an assurance to the public that the accreditor is qualified to conduct reviews of higher education programs.
NAEYC Accreditation is unique to each program that participates in the process, and they maintain rigorous standards throughout the program. They consider a variety of factors such as geographic location and available resources. One element of the program is consistency for everyone, which is demonstrated through the continuous support they provide for every program participant. These are the NAEYC stages required to complete the process here:
One of the many benefits of accreditation is that it provides a method to ensure that early learning programs can be measured based on indicators such as the quality of the classroom. It focuses on giving teachers guidelines through safety standards and it ensures that each program is safe, well prepared, and intentional. These measures help to guide each child to success. The accreditation process provides programs with a reputable indicator that the program is a quality program that will correlate with the child's readiness, better success in school, higher education attainment, and a healthier lifestyle as indicated by their website. The process also helps the CLC staff by ensuring that teaching staff and administrators have access to the latest research and best practices in the early learning field.