DSA News
October 07, 2022
On Tuesday, October 18th, 2022, the Center for Diversity and Inclusion (CDI) will host José M. Hernández as the 2022 Fall Speaker Series keynote speaker. Hernandez is known as the first migrant farmworker to travel to space and his keynote address titled, "Reaching New Heights," will share his experiences as an astronaut training in socially isolated environments. This inspiring speech will discuss his journey as the first migrant farmworker to become a NASA astronaut and highlight the importance of goal setting, hard work, and perseverance. Hernández was assigned to the NASA crew of Space Shuttle mission STS-128, and also served as chief of the Materials and Processes branch of Johnson Space Center. Amazon Prime will soon release a documentary on his life story.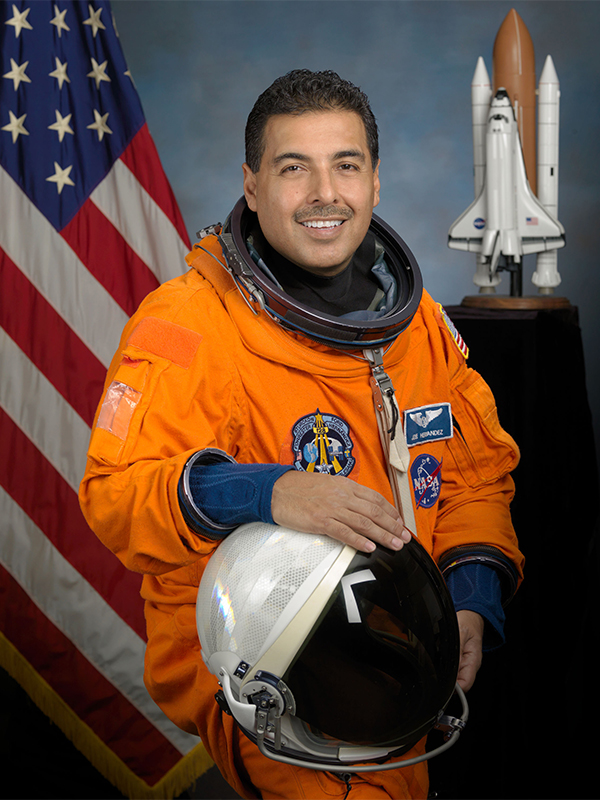 On one night, A Series of Exciting Events!
This year's CDI Fall Speaker Series is sponsored by Amazon and centers the university's designation as a Hispanic Serving Institution while promoting the advancement of Science, Technology, Engineering, and Math (STEM) fields . The evening will kick-off at 5:15 p.m. with a "networking hour" showcasing our many Hispanic/Latin and STEM-related organizations. At 6:00 p.m., the speaker series will continue with an opening message by Dr. Elsa Gonzalez from the ELLAS Lab in the College of Education on the meaning of HSI "servingness" and Latine Student Success in STEM. The keynote address presented by Dr. Hernandez, followed by a conversational interview with Amazon leaders, will close with a student leader and Hispanic Serving Institution advocates reception. Students will also have the opportunity to network with Amazon leaders and learn about career opportunities within the company throughout the event.
The event is free and open to everyone and will be hosted in the Student Center Houston Room. Live streaming is only available for members of the UH Community with Cougarnet ID and password.
Pre-register for the event using our form.
RSVP for the the reception. Limited spots are available.
For more information about this event, please contact Carlie Pierre.
---
More about the Center for Diversity and Inclusion:
The Center for Diversity and Inclusion engages, empowers, and educates the highly diverse student population at the University of Houston by providing workshops, programs, student leadership opportunities, The center creates brave space environments to promote cross-cultural communication and culturally responsive practices that help diverse communities connect. The cultural competencies gained through CDI's programs facilitate a learning environment where UH constituents are better equipped to understand multiple perspectives, practices, and promote a culture of inclusion.