DSAES News
July 21, 2022
Alyssa Veteto has been named the new assistant dean of students in the Division of Student Affairs and Enrollment Services. Veteto joined the Dean of Students Office in the Division on May 9, and as assistant dean she will work with student conduct process, supporting students through advocacy and resource referrals, reviewing policy, and supporting the office's work.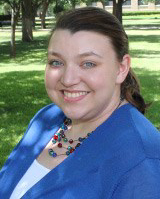 Veteto previously served as the assistant director of residential life overseeing academic initiatives in the Division's Student Housing and Residential Life.
Veteto said she's thrilled to join the Dean of Students Office. "In my time at UH, I've had the opportunity to work closely with the Dean of Students Office and have seen the meaningful impact they have on students," Veteto said. "Being able to work as part of the DOS team to support students during the critical points in their UH experience is an exciting opportunity to continue my career in this field."
Veteto has had many years of higher education experience working one-on-one with students. She first joined the University of Houston in 2016 as a residential life coordinator in Student Housing and Residential Life, and before that she worked for Austin College as an area coordinator. She earned both her bachelor's and master's degrees from Southern Methodist University, and over her career has won numerous awards and honors for her work.
Donell Young, dean of students and assistant vice president for student affairs, said Veteto is passionate about working with students. "Her energy and knowledge make her a perfect fit for the dean of students office," he said. "She is familiar with our campus, has been working with students for many years, and is dedicated to seeing students succeed."