DSAES News
July 21, 2022
The University of Houston turned 94 on March 7, but the university's usual plans to celebrate were thwarted by icy weather. Winter Storm Uri struck just two weeks before UH Giving Day, held each year on the anniversary of the university's founding.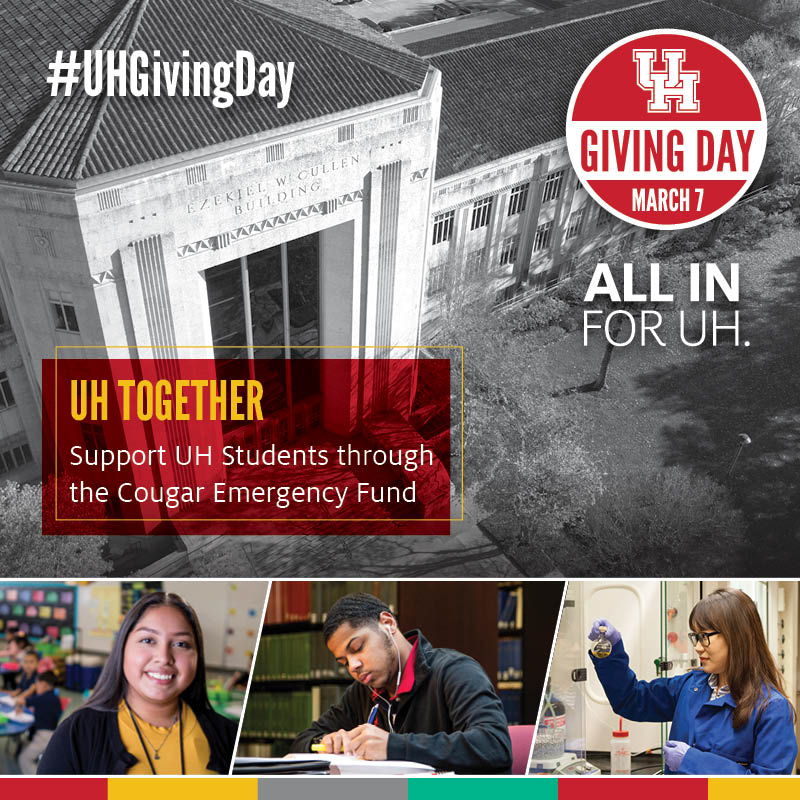 While past UH Giving Days asked Coogs everywhere to support the UH program or service of their choice, the focus turned instead to the Cougar Emergency Fund, which has been helping students struggling during the COVID-19 pandemic for the past year.
Now, the Cougar Emergency Fund is also helping students who were dealt a blow by the winter storm that left millions of Texans without power and water. The renewed focus on the Cougar Emergency Fund netted an additional $57,211 from alumni and friends during the UH Giving Day campaign, which featured numerous social media posts from across UH divisions and colleges asking for support.
Multiple departments within the Division of Student Affairs and Enrollment Services participated in the campaign and asked donors to support the Cougar Emergency Fund, as well as their own programs.
"The increased participation in UH Giving Day from colleges and departments across the campus is essential to bringing awareness to multiple philanthropic opportunities at UH," said Andrea Ward, development director for the Division of Student Affairs and Enrollment Services. "The Cougar Emergency Fund is an excellent and easy way to make a positive impact on a UH student in need, and we are thrilled that so many alumni and friends chose to help students who may be struggling financially."
According to University Advancement, 7,318 donors made gifts to UH during the campaign, setting a new record. Donors could also choose to donate to specific departments and programs instead of the Cougar Emergency Fund, as all gifts to the university counted for UH Giving Day.
The UH Giving Day campaign was not limited to just the day of March 7; instead, those helping promote the campaign engaged with alumni on social media for a week leading up to UH's birthday.
The Cougar Emergency Fund, which relaunched last year as the global pandemic began to take a toll on UH students, provides financial assistance to those students who would otherwise be forced to put a hold on their college pursuits.
The fund provides up to $1,500 per student to cover expenses like medical costs, food, housing, tuition assistance and loss of wages.
Since it relaunched in 2020, UH has distributed more than $800,000 from the Cougar Emergency Fund to students.