DSAES News
July 21, 2022
The University of Houston LGBTQ Resource Center's Spring 2021 Lavender Graduation was virtual and was as fun and engaging as ever. On Friday evening, May 7, 2021, over 55 graduates and guests gathered on Zoom to celebrate and honor the accomplishments of many of UH's LGBTQ+ and ally graduates.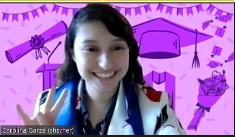 With festive background for all, Juliann Losey, Gender & Sexuality Education Program Manager, and Dani Soltis, Graduate Assistant, read the names and degrees of each graduate.
Although the participants were muted, the cheers were loud and clear in the chat. With 441 comments in total, there were 35 congratulations, 69 claps, 148 emoji reactions, and 18 COOGS HOUSE.
UH LGBTQ Resource Center Director Lorraine Schroeder said, "I was a bit concerned that the virtual event wouldn't be as special as the in-person events have been. But we all pulled together — graduates, guests, speakers, and staff — to make it the most fun virtual event ever."
The impressive line-up of speakers included:
Richard Walker, Vice President for Student Affairs and Enrollment Services at the University of Houston
Jenna Pel, President of the UH LGBTQ Alumni Association
Guillermo De Los Reyes, Associate Director of Women's, Gender, and Sexuality Studies Program at the University of Houston
Lo Roberts, Executive Director of Pride Houston, Inc.
Aydian Dowling, Transgender Activist and Influencer
Frank Fuentes, University of Houston alum
Jamie Gonzales, Career Counselor at the University of Houston.
In brief, heartfelt videos, the speakers conveyed their well wishes to the new graduates. As Dr. De Los Reyes said in his video-speech to the graduates, "You have overcome many challenges to get to this place today. I am so proud and inspired by you."
Lavender Graduation, also known as Lav Grad, is an annual ceremony to honor lesbian, gay, bisexual, transgender, queer, and ally students and to acknowledge their achievements and contributions to the University. This event has been celebrated by colleges and universities across the United States since 1995.
The UH LGBTQ Resource Center provides support and a safe space for LGBTQ people on campus to access resources, ask questions, and make connections with other students. Through visibility and education, we seek to create an environment of LGBTQ acceptance and inclusion for the entire campus community. The Center sponsors annual events such as National Coming Out Day. Other services include a lending library, an ambassador/leadership program, mentoring program, Cougar Ally Training, and discussion groups. Please contact the Center for the latest information on these and other programs.