DSAES News
July 21, 2022
Joseph Secrest, assistant director of leadership development and assessment in the Department of Campus Recreation, has been honored by the National Intramural Recreational Sports Association with one of its highest honors.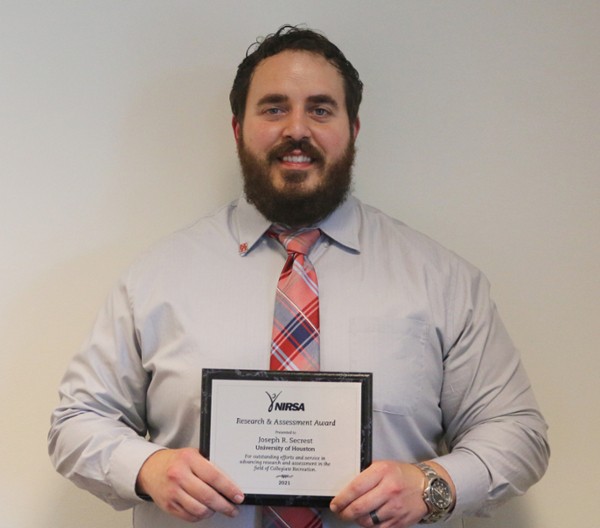 Secrest received the distinguished NIRSA Research and Assessment Award, which recognizes professionals who have made extraordinary contributions towards advancing research and assessment initiatives on their campus and/or for the association. The award is based on significant personal advocacy, development, or implementation of assessment efforts.
Secrest said he's honored to be recognized by NIRSA for his research and assessment efforts.
"Assessment and student success run better together, and it is an ongoing awareness of students' learning and their needs, rather than an occasional event in a program," Secrest said. "Continuous research and observation, along with an understanding of how students want to learn and engage, allow student affairs professionals to make valid decisions and judgments in an ever changing world.
"My passion is student success, and it is a privilege to be a part of the University of Houston, the institution that has provided me the opportunity to make the work that so many of my colleagues and I are doing meaningful. For that I am eternally grateful," he said. "My hope would be to live up to the standards set forth by UH and premier organizations like NASPA and NIRSA to inspire others and make meaningful strides for the betterment of our students and represent UH in a positive light."
Secrest has been with the University of Houston for five years, and in his role in the Division of Student Affairs and Enrollment Services' Campus Recreation he focuses on serving the department and students, as well as holding positions on several committees for both UH and NIRSA.
Secrest's dedication to evidence-based practices and using data to drive decisions has led him to positively impact student success by conducting learner analysis to identify gaps and provide practicum towards transferable skills, leading them towards the best version of themselves.
He has also advanced the research on the culture of well-being that is being done at the University of Houston. Along with countless other projects for eLearning, education outcomes, evaluations, and benchmark studies that help our students now and in their future.