DSAES News
July 21, 2022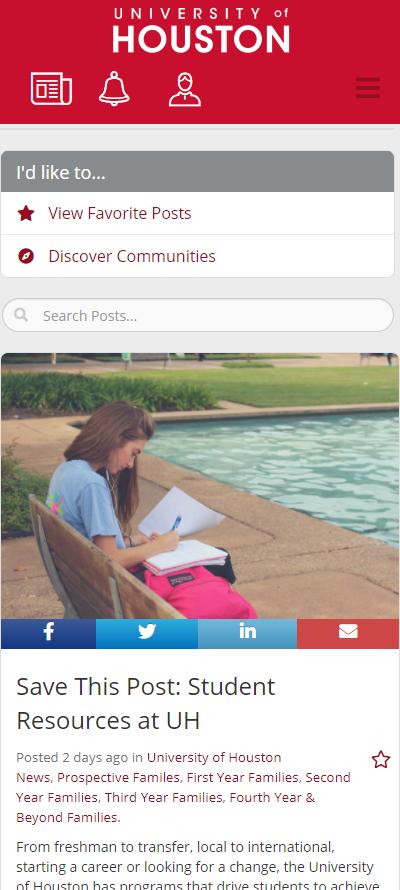 Sending your child to college can be a difficult. It's even more difficult for families to know what's going on with their students on campus.
That's why the University of Houston Parent and Family Programs in the Dean of Students Office partnered with CampusESP to launch a new "Cougar Family Connect" portal to serve as a one-stop shop for families looking to stay involved with their student's campus life.
The new "Cougar Family Connect Portal" website launched on June 14 and is a free service to use for all University of Houston families.
"I think this is a good opportunity for families who want to stay connected to what's happening on campus," said UH Assistant Dean of Students Andrea Mitchen. "This website will allow them to support their student, whether they are close or far away and is a great way for families to stay engaged with the campus community."
After signing up with the website, families will be able to access all of the University of Houston's resources and news in one place. The site will also maintain an up-to-date schedule of all the events happening at UH. The website can also be customized to fit a user's preference and will feature information based on their interests.
Signing up with the Cougar Family Connect Portal will also allow families to receive an e-mail newsletter and access a blog that will allows families to communicate with one another. The newsletters come at a frequency the families choose (daily, weekly, monthly) and will bring all of the news and information from University of Houston straight to their inbox.
"We're trying to pull resources together on one simple platform for families to find it," Mitchen said. "We're seeing that families are looking for more information, because their students are contacting them and saying 'I'm looking for this resource.'
"We want to have everything on one site, so it will be easy to find what you're looking for."