DSAES News
July 21, 2022
UH Coog Moms has awarded $500 grants to two departments in the Division of Student Affairs and Enrollment Services that will help graduating seniors dress professionally as they embark on their new careers and also feed UH students struggling with food insecurity.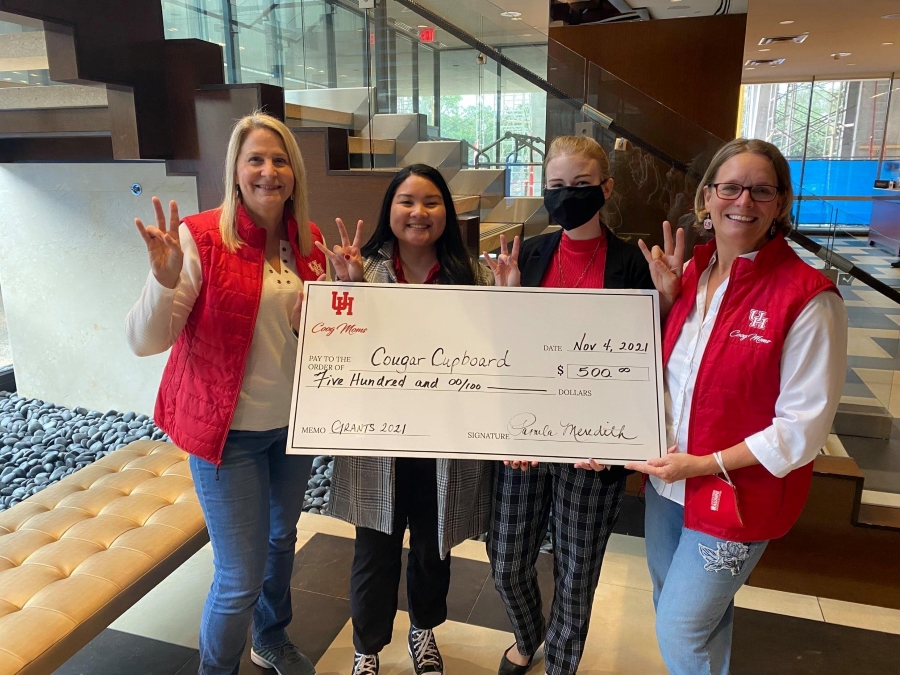 The campus organization — which offers programs, services, scholarships and grants to help students succeed at UH — has awarded two of its three fall semester grants to University Career Services and Cougar Cupboard in UH Wellness.
Coog Moms only just launched its grants program: Cougars in Recovery was the first recipient of a grant last year. Coog Moms awarded another $500 grant this year to Active Minds UH, a student organization that helps destigmatize, raises awareness and provides support to students struggling with mental illness.
Pam Meredith, chair of the UH Coog Moms Grant Program, said the three recipients this year were unanimously chosen by members of the grants committee. Of all the applicants, she said, they help the most students and have the greatest impact because they focus on life essentials that enrich both body and mind.
"UH Coog Moms is always happy to lend a hand to campus organizations that support our students," Meredith said. "All three of these organizations provide much needed support to our students in the form of food, clothing and mental health awareness. Our committee was pleased to provide a $500 grant to each of these organizations this semester and look forward to continuing to provide grant assistance to more student and campus organizations in the future."
University Career Services will award five $100 scholarships to students to use during its JCPenney Suit-Up event held each semester. During the Suit-Up Event, hundreds of UH students can purchase business attire at discounts up to 30 percent, but this grant will help those students who can't participate in that sale because of financial barriers, said Dr. Monica Thompson, executive director of University Career Services and interim assistant vice president for student affairs.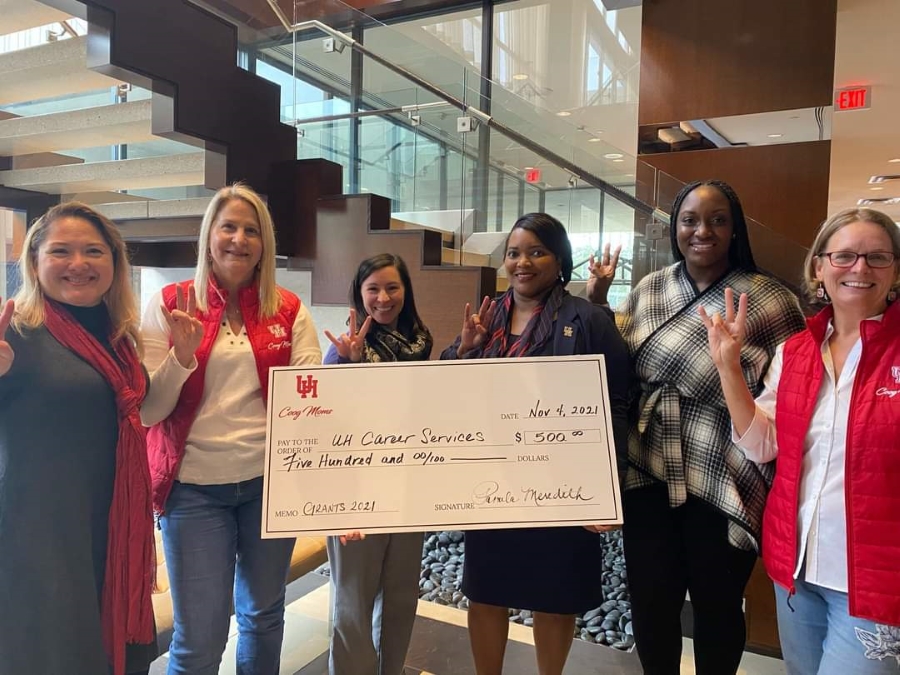 "I am grateful University Career Services was one of the recipients of the Coog Moms grant," said Thompson. "It will directly impact graduating seniors transitioning from student to a new professional, helping UCS to continue to meet a need for new alumni. This grant will help new Coog grads build a wardrobe suitable for their industry."
Thompson said that as a former recruiter, she has first-hand knowledge in how recruiters assess job candidates' skills and talents. During the interview process, she said, recruiters will imagine a candidate working in their organization, so it's important that students learn the company culture of the company they are interviewing for, including the dress code and if the work environment is formal or informal. Depending on the industry, she said, the dress code could be casual or business professional.
"Along with interview preparation, I encourage students to dress in a way that make them appear strong and more confident," Thompson said. "Remember, first impressions are everlasting. Clothing is simply a tool to gain confidence, giving students that added touch of professionalism during the recruiting process."
Students also have another option for dressing for success: University Career Services also offers students the option of renting career-ready clothing from its Career Closet — for just $10, they can rent a suit, pantsuit or dress suit for two days.
"Considering all the demanding aspects of the job search process — from the resume writing, the elevator pitch, and the behavioral interview questions — having the right attire gives students one less thing to stress out about," said Cynthia Olmedo, assistant director of Alumni Career Services at UCS.
Cougar Cupboard plans to use its $500 grant to purchase more food for the more than 2,100 students who have enrolled in its program, said Jessica Haney, coordinator for the on-campus food pantry. Though the items Cougar Cupboard receives from the Houston Food Bank are free, Haney explained, they like to purchase additional items to provide more varied and nutritious options for students to have — such as more pantry staples like milk.
"We and the students we represent are very appreciative of this grant and Coog Moms' generosity!" Haney said. "One thing we sometimes hear from the students who use our services is that they are either skipping meals or are not able to pursue healthy diets, so support from organizations like Coog Moms allows us to reach these students and get them what they need to be healthy and successful."
Currently located on the first floor of the Campus Recreation and Wellness Center, Cougar Cupboard was established in 2020 just two months before the pandemic began in earnest. Partnering with the Houston Food Bank's Food for Change market network, Cougar Cupboard is available to all enrolled undergraduate or graduate students who may need access to additional food.
In less than two years, more than 2,100 students have enrolled in the program, receiving 30 pounds of free groceries every week. Currently, Cougar Cupboard gives out an average of 350 bags of food to 300 students each week. It has also partnered with United Way and Door Dash to offer no-cost food delivery to vulnerable students who cannot come to campus to pick up food. Each week, 40 to 50 students receive food through Door Dash.
"We have three different bag options that students can choose from in an effort to reach all students regardless of dietary restrictions, as well as special items available for request (including fresh produce, frozen meat, milk, and hygiene items) and a process for accepting unwanted items from students to prevent waste," Haney said. "All of our bags include a variety of canned vegetables, a protein option such as tuna or beans, pasta and rice, and an assortment of snacks to get students through the day."
Cougar Cupboard is also moving. Next semester, the program will operate out of a new location that will allow them to switch to a Client Choice model, which functions more like a grocery store. "Students can come in and choose exactly which items they need, unlike our current method," Haney said. "We are very excited for this change!"
UH Coog Moms, which is housed in the Dean of Students Office, focuses on establishing a fellowship among UH moms and families. The group offers programs and services to support students, and it also has scholarships and grants that it awards each year. The scholarships help UH students financially, while the grants offer assistance to campus organizations in supporting student success.
There are currently 453 members in UH Coog Moms, and they are always taking applications for members.
---
About University Career Services
University Career Services is a full-service career center offering students and UH alumni resources and assistance in the formulations and implementation of their career plans. The department provides quality services to our constituencies through leadership and quality relationships built on a foundation of integrity. University Career Services is the premier career services provider at the University of Houston.
About Cougar Cupboard
Cougar Cupboard addresses the problem of food insecurity, or the inability to afford enough nutritious food to fuel a regularly healthy lifestyle. In partnership with the Houston Food Bank's Food for Change market network, Cougar Cupboard is available to all enrolled UH students who can receive up to 30 pounds of food each week. Stocked with fresh fruits and vegetables, frozen and refrigerated foods, and dry goods, Cougar Cupboard hopes to help eliminate food insecurity as a barrier to student success.