DSAES News
July 21, 2022
The Center for Diversity and Inclusion recently held its annual Fall Speaker Series featuring keynote speaker Favianna Rodriguez. An American artist and activist based in Oakland, California, Rodriguez is guided by her experiences as a queer woman of color with Afro-Peruvian roots, and her work centers around themes of racial equality, migration, and climate change. She believes that artists are a crucial part in bringing change to society.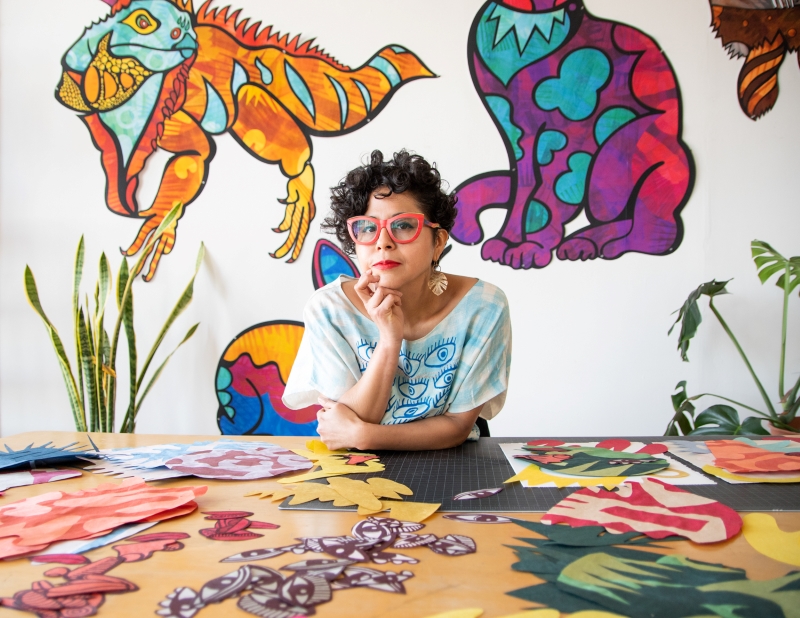 "Policies are the final manifestation of an idea whose time has come but that idea is created in culture. Culture is where we normalize ideas," shared Rodriguez during her keynote presentation, "Culture is Power." In this keynote, she highlighted the relationship between culture, politics, and economics a well as their joint impact on social change. She stressed, however, that for any of that to occur, people would have to come forward with their stories. Rodriguez emphasized that storytellers are like stars and, as more of them shine, we can start to see the constellations that connect them and illuminate our experiences.
Rodriguez's keynote speech was held on October 28, but those who missed it can still watch it on CDI's website. For a limited time, a recording of the live-streamed event will be available, including both her keynote presentation and an interview conducted by CDI instructional assistant and UH graduate student, Lupita Hernandez.
A collaborative event between UH staff, faculty, and students, Rodriguez was introduced by Victor Castro, a sophomore at UH.
"I really enjoyed speaking about my experience at the University of Houston and the Achievement Initiative for Marginalized Males," said Castro. "I loved Favianna's keynote primarily because, as the son of an immigrant father, her speech inspired me to get out there and be politically active."
After the keynote, the audience was invited to participate in a social justice poster-making workshop where participants had the opportunity to be the storyteller. Led by Rodriguez, attendees got to make their own social justice collages related to their interests using visuals from Favianna and other artists' works. The Center is also proud to have collaborated with Dr. Guillermo De Los Reyes, Dr. Norah Gharala, and their team in hosting an exhibit highlighting research and art by Ignacio "Nacho" Sanchez. This work centered on "Mapping Slavery in Early Colonial Mexico" and showed the relationship between and impact of art and research on storytelling.
CDI's annual Fall Speaker Series highlights diversity, equity, and inclusion efforts by inviting nationally recognized speakers dedicated to providing insight and knowledge on various social justice issues. Past speakers have included LaTosha Brown. Award-winning co-founder of Black Votes Matter Fund, and Alesandra Lozano, Voting Rights Outreach Coordinator for Texas Civil Rights Project. Students, staff, and faculty at the University of Houston are invited to join in on the conversations at future keynotes.