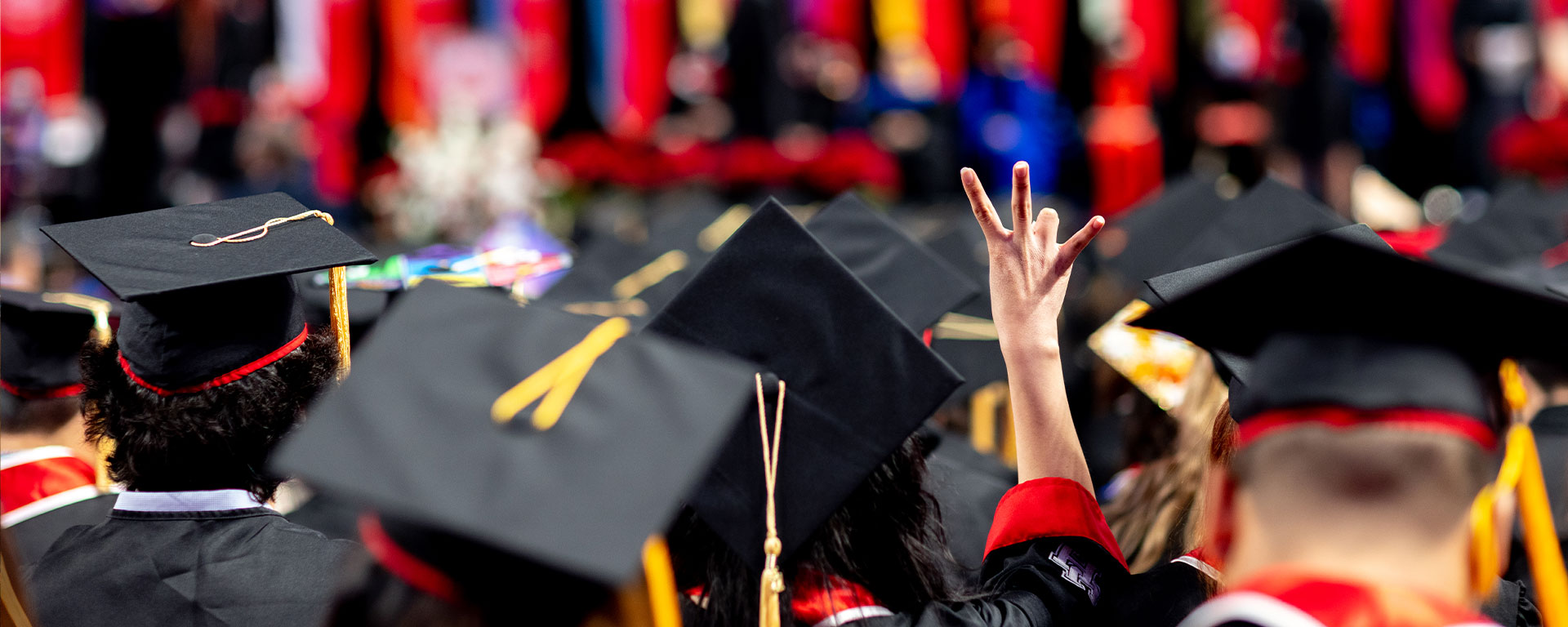 Spring 2023 Commencement Schedule
Wednesday, May 10, 2023
College of Technology | 7:00pm | Fertitta Center
Thursday, May 11, 2023
College of Liberal Arts and Social Sciences (Ceremony I) | 9:00am | Fertitta Center 
College of Pharmacy | 9:00am | Cullen Performance Hall
College of Liberal Arts and Social Sciences (Ceremony II) | 2:00pm | Fertitta Center 
Graduate College of Social Work | 7:00pm | Fertitta Center
Hobby School of Public Affairs | 7:00pm | Cullen Performance Hall
Friday, May 12, 2023
C.T. Bauer College of Business (Ceremony I) | 9:00am | Fertitta Center
Conrad N. Hilton College of Global Hospitality Leadership | 10:00am | Cullen Performance Hall 
C.T. Bauer College of Business (Ceremony II) | 2:00pm | Fertitta Center 
College of Nursing | 2:00pm | Cullen Performance Hall
Gerald D. Hines College of Architecture and Design | 3:00pm | Architecture Building
Kathrine G. McGovern College of the Arts | 7:00pm | Cullen Performance Hall
College of Natural Sciences and Mathematics | 7:00pm | Fertitta Center 
Saturday, May 13, 2023
Cullen College of Engineering | 9:00am | Fertitta Center
College of Optometry | 2:00pm | Cullen Performance Hall
UH Law Center | 2:00pm | Fertitta Center 
College of Education | 7:00pm | Fertitta Center
Ticketing Information 
Tickets will be required for all University Commencement ceremonies. Each candidate for graduation will be emailed a link to download six (6) electronic tickets closer to the date of your ceremony. Graduates themselves will not require a ticket. Children two (2) years of age and younger will not require tickets.
Please note: All commencement tickets are complimentary. We do not condone the selling of commencement tickets. Please be wary of individuals attempting to sell tickets.
We look forward to celebrating your academic achievements.
For college specific information, please contact your Commencement Coordinator below:
Gerald D. Hines College of Architecture and Design
Kathrine G. McGovern College of the Arts 
C.T. Bauer College of Business
Conrad N. Hilton College of Global Hospitality Leadership
College of Liberal Arts and Social Sciences
College of Natural Sciences and Mathematics
Graduate College of Social Work
Hobby School of Public Affairs
Please continue to check the university commencement website, www.uh.edu/commencement for the most current information.